Estimated read time: 2-3 minutes
This archived news story is available only for your personal, non-commercial use. Information in the story may be outdated or superseded by additional information. Reading or replaying the story in its archived form does not constitute a republication of the story.
Sammy Linebaugh reporting A domestic dispute turns into an arson investigation, after flames erupt at a Pleasant Grove home.
Heather Kitchen/Neighbor: "It didn't take long at all for it to just overtake the house."
Police say the fire was intentionally set by the homeowner's son. The son had apparently threatened his mother's life.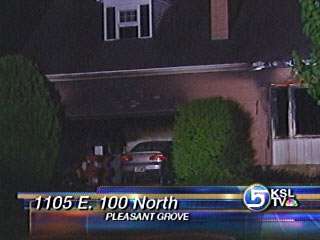 Police initially came to the home in response to a 9-1-1 domestic violence call, but the situation quickly escalated.
30-year-old Jeremy Wilkins has been booked into the Utah County Jail on aggravated arson charges. Authorities believe he spread fuel accelerant throughout his mother's home, and then set it on fire.
The situation started about 9 o'clock last night, when police say a woman called 9-1-1 asking for help, then quickly hung up.
Chief Tom Paul/Pleasant Grove Police Dept.: "We got a call about 9:15, just a hang up 911 call, saying 'We need the police here quick.' And then the phone went dead."
Police believe that caller was Wilkins' mother. They say Jeremy Wilkins showed up at the home unexpectedly, and started an argument. He then pulled out a knife and threatened his mother. She escaped the house and ran for help.
When an officer arrived, he saw Wilkins pacing in the front room, holding a knife. The officer ordered Wilkins outside and told him to drop the weapon.
Wilkins surrendered, but then police realized they had a bigger problem on their hands.
Chief Tom Paul/Pleasant Grove Police Dept.: "the officer handcuffs him, then smells smoke or smells fire, then realizes or turns just as the stairs light up."
Flames were pouring out the windows. Fire crews were called and they quickly doused the blaze, but not before it caused significant damage to the main floor and basement. Officials estimate damage at $150-thousand dollars.
Chief Tom Paul/Pleasant Grove Police Dept: "We weren't planning on the fire. We just knew we had a problem on a domestic violence situation and then fire just came along with it."
Fortunately, no one was hurt. Some neighbors were evacuated as a precaution, so a very hectic night for this entire Pleasant Grove neighborhood.
×
Most recent Utah stories