Estimated read time: 2-3 minutes
This archived news story is available only for your personal, non-commercial use. Information in the story may be outdated or superseded by additional information. Reading or replaying the story in its archived form does not constitute a republication of the story.
Keith McCord ReportingFormer Jazz man Karl Malone and his wife Kay no longer own their big mansion in the upper Avenues area of Salt Lake. It was sold today at an auction to a surprise bidder.
When you hold an auction at a place like the Malone's mansion, it takes on a different feel. A musician provided some background sounds; in the kitchen it was hors d' oeuvres a plenty; a casual, friendly, summer-party type feel.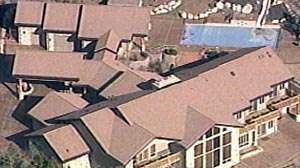 But as auctioneer Craig King gave a few final instructions, the 12 bidders checked their paperwork, made one last phone call....
Craig King, J.P. King Auction Co.: "Karl Malone's Utah estate is up for sale. What are my bids? Let's go…"
After leaving the Jazz Malone put this huge home up for sale but no one bought it. So he decided to do what many celebrities and investors do and sell it in an auction. The early bids came in low, until a man on the phone shouted. A California investor has just bid 2 .5 million dollars. 2.5-mil for a 17,000 square foot home, with eight bedrooms and 11 baths!
And bidder 132 just happens to be, ironically, Dwight Manley, Karl Malone's agent.
Craig King, J.P. King Auction Co.: "You know when we sold Barbara Mandrell's home, Louise Mandrell's agent bought it. So that's not really that unusual. He'd been in the home many times, he's familiar with the home."
The bidding started at 5-million dollars, then went to 4, to 3 and down to 2, and then back to 2.5 for the final selling price. And it all took just 7-minutes. It's not clear if Manley was bidding on behalf of himself or someone else.
So was 2.5-million a good deal for this home? The home was on the market for nearly 6-million a year ago. The auctioneer says yes, it was a fair price for the current market. But he says with every auction they always hope for one more bid.
×
Most recent Utah stories