Estimated read time: 3-4 minutes
This archived news story is available only for your personal, non-commercial use. Information in the story may be outdated or superseded by additional information. Reading or replaying the story in its archived form does not constitute a republication of the story.
SALT LAKE CITY -- Sen. Bob Bennett is spending his vacation talking about his version of health care reform. He toured the University of Utah Hospital today in the latest of a series of health care provider meetings about details of his plan.
The U hospital is the kind of place where the health care debate takes on a more human, emotional tone. Sen. Bennett spoke to a young man thankful for his own insurance, yet facing uncertainty and expensive care.
James Wood said, "Eventually it came out that they found a mass in my chest. That has turned out to be lymphoma cancer."
There are lots of people in a similar situation but who don't have insurance for whom Bennett has crafted a plan, partnered with Oregon Senator Ron Wyden. The Healthy Americans Act would mandate private insurance coverage, and give consumers the power to pick a plan.
The plan would mandate private insurance coverage and give consumers the power to pick a plan. It's cheaper, and he says there is no public option. But he's finding out it is still not an easy sell.
Bennett says under his plan there are strict guidelines for private insurers. People seeking insurance would pick their own provider.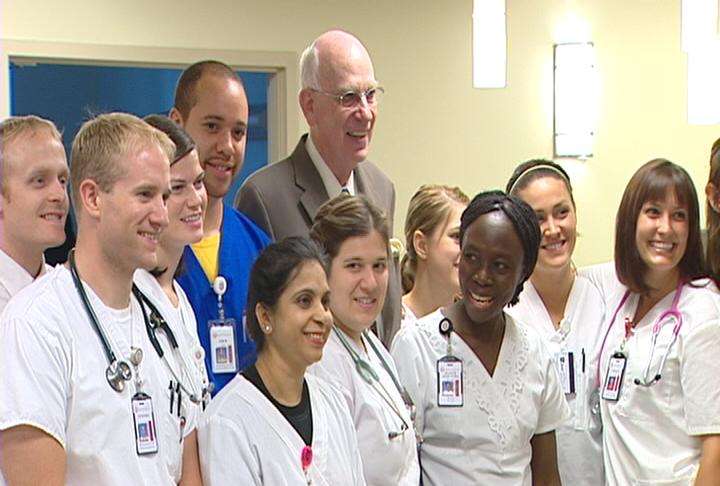 "We break the link, if you will, between an employer-based system and the individual," Sen. Bennett said, adding, "So that individuals gain control of the health care dollars and the examination of that in the marketplace. When you get true competition in the marketplace, the costs start to come down."

But the Bennett-Wyden plan is attracting criticism from conservatives. The plan is criticized in a TV ad, paid for by the conservative group "Club for Growth". Bennett's re-election opponent, Mark Shurtleff, is also critical. Both say the plan is littered with government mandates and subsidies.

**What is… the Healthy Americans Act?**

The Healthy Americans Act, also known as the Wyden-Bennett proposal, is a Senate bill aimed at improving the American health care system. It would create a universal health care system that would be paid for by both public and private contributions and guarantee private health care coverage for all Americans. People would no longer get insurance through their employers, but would be free to choose the health insurance that is right for them through a health-insurance exchange. Employers would increase the employees' salary by the amount being paid for health insurance. New tax deductions would allow most people to break even. The Act also gets rid of Medicaid and the Children's Health Insurance Plan and replaces them with a new government agency that would help the poor select coverage.

The ad says it could be just as harmful as Pres. Obama's nationalized health care plan.

Bennett says the ads have sparked calls to his office. Many who start out upset come away supporting his idea, he says.

"Roughly two-thirds of the callers who call all upset about what's in the ad, when they find out what's really in the bill come away and say, 'Well, that sounds really good,'" he said.

Sen. Bennett himself is open to questions and to taking a slow, deliberate approach to health care reform. He knows parts of his plan makes people nervous, but he says he wants to be a part of reforming a system that's clearly not working.

E-mail: rpiatt@ksl.com

×
Related links
Most recent Utah stories