Estimated read time: 2-3 minutes
This archived news story is available only for your personal, non-commercial use. Information in the story may be outdated or superseded by additional information. Reading or replaying the story in its archived form does not constitute a republication of the story.
Jed Boal ReportingRobert Smith, Davis County Public Works: "Water goes where it wants to go, and it looks like it's trying to straighten itself out."
Floodwaters steadily surge higher in rivers and creeks along the Wasatch Front as hot air melts off the high altitude snow. In Utah County, Dry Creek turned a schoolyard into a wet pond and American Fork River threatened homes. To the north, Farmington Creek is swelling and chiseling away at its banks. And in Salt Lake County a flood watch is now in effect for several creeks, and the water is still rising.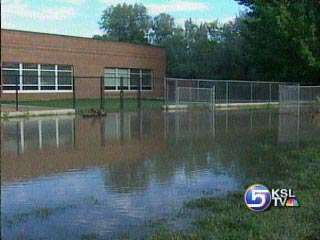 A floodwatch was issued today for Big and Little Cottonwood Creeks and City Creek in Salt Lake. The snow is melting quickly high in the mountains and the rivers will continue to rise before they peak.
The thunderous sound of run-off is rising all along the Wasatch Front. In Lehi Dry Creek flooded the grounds around Lehi Elementary School. When students arrived they had to cross a temporary bridge. Right now there's no threat to the school, but it could be soggy for some time.
Mike Privett, Maintenance Coordinator for Alpine School District: "It's a total adventure for the kids. They seem to be doing very well."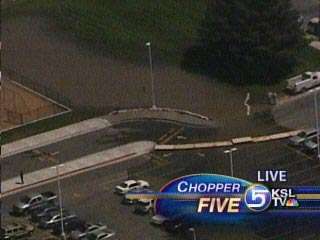 In Highland, the American Fork River breached its banks at 1:00 a.m. Young volunteers standing watch sounded the alarm.
Matt Farmer, River Watch Volunteer: "I just saw this river running down into here, and I just started running down the hill to call 9-1-1."
Hundreds of volunteers converged to fight back the floodwaters.
Scott Blomquist, Flooded Homeowner: "It was great to see the effort of all the neighbors protect all of our household belongings."
In Farmington the creek is roaring and eating away at property. Davis County engineers want to control the flow of the creek and protect a power line.
Robert Smith, Davis County Public Works: "It took out the banks, it caught trees, and it forced the water onto the north bank, which upset some of the owners."
The property owner was elated to see the county arrive. Steve Phipps expected high water in the channel, but not this.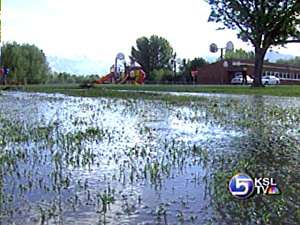 Steve Phipps, Farmington Resident: "We had no idea it was going to start eroding the walls of the stream bed away."
Most communities have done a good job preparing and handling the high water when it comes down, but remember, the peak is yet to arrive on most of these rivers.
×
Most recent Utah stories