Estimated read time: 1-2 minutes
This archived news story is available only for your personal, non-commercial use. Information in the story may be outdated or superseded by additional information. Reading or replaying the story in its archived form does not constitute a republication of the story.
Sandra Yi Reporting A man is in jail after leading police on a high-speed chase in a stolen car. He may be a suspect in a string of car thefts.
Police say they patrolling a Taylorsville apartment complex because there have been reports of stolen cars there. Just after midnight an officer noticed a white truck pull into a parking stall in the complex. That truck matched the description of a stolen vehicle.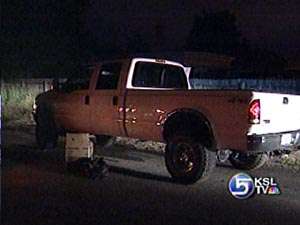 When the officer approached the driver, the man accelerated, driving recklessly over the curb and the grass and onto 4700 South. The driver led police on a 20-minute chase all over the valley. At times, speeds reached 100 miles an hour.
Police tried to spike the truck, but the suspect refused to stop. At one point he even swerved to hit a patrol car as officers tried to get close enough to identify him. The chase eventually ended at 600 East and 9500 South. The suspect jumped out of the car and tried to hide in the bushes, but he was arrested.
Scott Miller, Taylorsville Police Dept.: "The foot pursuit of this stolen vehicle ended without any damage to the stolen car or any damage to the patrol vehicle, which is a wonder, with his aggressive actions in the pursuit towards the pursuing officers."
Twenty-year old Scott Mendenhall was booked into the Salt Lake County Jail on three felony charges, including burglary and fleeing. The white truck he was in was reported stolen from a dealership in American Fork.
Police say Mendenhall may be connected to several other stolen cars, and a burglary business. They are not releasing any details as the investigation continues.
×
Most recent Utah stories