Estimated read time: 2-3 minutes
This archived news story is available only for your personal, non-commercial use. Information in the story may be outdated or superseded by additional information. Reading or replaying the story in its archived form does not constitute a republication of the story.
Sammy Linebaugh reportingA suspect blazing down the road causes a triple car accident in West Valley City.
That suspect was originally pulled over early this morning for driving under the influence. But when officers searched his car after he crashed it, they were surprised by what they found.
The intersection of 2200 W. 4100 South was a mess, with three mangled cars strewn around the area.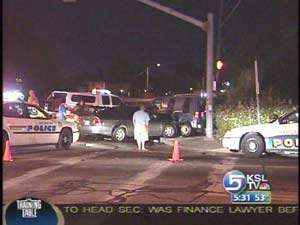 It began around 1:00 this morning when a West Valley policeman pulled over 20-year-old Joseph House.
The officer thought House had been driving under the influence. When that officer tried to approach his car, House sped off, leading police on a chase.
Speeds reached 70 miles an hour until the man reached 2200 West and 4100 South. Police say House was trying to weave through traffic against the light. He sparked a domino-effect crash when he tried to turn.
Another vehicle struck his car, and then pushed it into a third.
After the wreck, the suspect jumped out and ran off. Search dogs and police were able to catch him a few blocks away.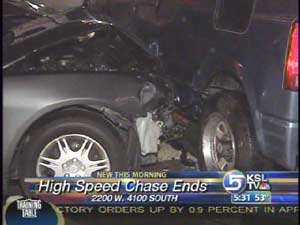 Then, police learned the car House was driving was stolen.
Lt. Corey Newbold/ West Valley City Police Dept.: "He'd taken (a license plate) off of another gold Saturn that was not listed as stolen and put it on a gold Saturn in an attempt to avoid detection of the stolen vehicle."
And that wasn't the only surprise. When officers opened the Saturn's doors, they were shocked by what they found.
Lt. Corey Newbold/ West Valley City Police Dept.: "Inside the vehicle there was a lot of stolen mail, credit cards, and a lot of forged documents and checks."
Police believe House may have tried to use that information to commit identity theft.
The other two cars involved in the crash were severely damaged, but no one was seriously injured.
×
Most recent Utah stories