Estimated read time: 2-3 minutes
This archived news story is available only for your personal, non-commercial use. Information in the story may be outdated or superseded by additional information. Reading or replaying the story in its archived form does not constitute a republication of the story.
John Hollenhorst ReportingLaw enforcement agencies around the nation have been put on the lookout for polygamist leader Warren Jeffs, but it's not certain they'll make an aggressive attempt to arrest him. The situation has become legally tricky and worrisome.
First we should point out, the Jeffs group has never been linked to acts of violence. But investigators say Jeffs has become increasingly secretive and isolated. They're not sure what to expect now that he's been charged with arranging an illegal marriage to an underage girl.
Last Friday at the Jeffs compound in Texas, a neighbor reportedly saw a convoy of vans and SUV's leaving the ranch. That was just after criminal charges against Jeffs were announced. No one outside really knows if Jeffs is there, or was there, or at other FLDS compounds in Utah, Arizona, Colorado, Canada and possibly Mexico.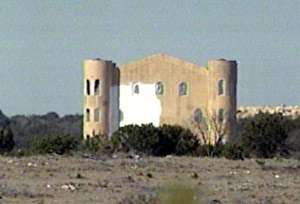 Arizona investigator Gary Engels developed the criminal case against Jeffs. He doubts the secretive FLDS prophet will ever willingly surrender.
Gary Engels, Arizona Investigator: "I really can't see him doing that because I really believe he thinks he's above the laws of the land."
The last probable sighting was in Texas, January 1, on the exact location where Jeffs' followers later built a temple. Free-lance writer Jon Kracauer took two aerial photos showing a man leading a ceremony on the temple site. In the second photo, the faithful closed ranks to hide the leader.
Without firm information that Jeffs is inside the compound, Texas authorities don't have a legal right to drive in and look. Some long-time Jeffs watchers also say aggressive tactics could spark a confrontation with Jeffs followers.
Buster Johnson, Mohave County Supervisor: "The ones I'd be more worried about are the young boys who are very loyal to him and more brainwashed, who might have that bunker-down mentality and want to protect their leader."
Gary Engels, Arizona Investigator: "Sure I worry about that. It's a possibility. How much of a possibility, I don't know. Warren Jeffs doesn't play by the book. He has his own agenda and none of us know what it is."
We spoke with a man who flew over the Texas compound today. He says construction activity has suddenly almost ground to a halt, and women and children have essentially disappeared from view. What it all means is anybody's guess.
×
Most recent Utah stories