Estimated read time: 2-3 minutes
This archived news story is available only for your personal, non-commercial use. Information in the story may be outdated or superseded by additional information. Reading or replaying the story in its archived form does not constitute a republication of the story.
John Hollenhorst ReportingGordon Lambert, VP, C.R. England, Inc.: "He had been easy to work with, very compliant, had no safety issues."
But something evidently snapped in the mind of truck-driver Bruce Wilson. Last night in Orem he barricaded himself inside the cab of his company truck, tying up traffic until he finally surrendered to a SWAT team. Investigators say the trucker appeared to be high on meth. And he had a history--a separate police standoff incident in California a few months ago.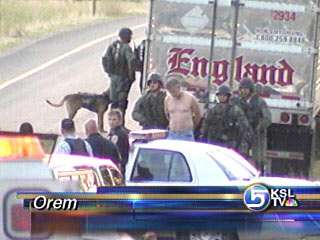 It's no secret the trucking industry has had a lot of trouble finding qualified drivers in recent years. So it raises the question: are they lowering their standards? But the company that hired Bruce Wilson has one of the best safety records in the business and gets nothing but praise from Highway Patrolmen.
Gordon Lambert: "When we hired him he looked very good."
In fact, Bruce Wilson seemed good enough to get hired twice by the C.R. England trucking company. Starting in 2002 he drove England trucks for a year and half, then came back a few weeks ago for a return hitch.
Gordon Lambert, Vice Pres., C.R. England, Inc.: "He had a good performance with us, up until just the last week and half when this situation started to occur."
In the days leading up to last night's standoff and eventual surrender Wilson seemed to lose focus, his employers say, and became discouraged.
Gordon Lambert: "Finally he told us that he was quitting."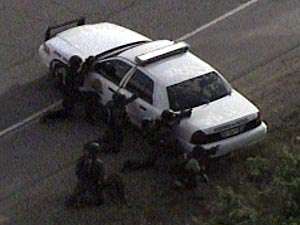 Investigators say he had syringes in his truck and was apparently high on meth. His employers never saw it coming, but then, they have a challenge.
Dan England, CEO, C.R. England, Inc.: "There is a constant need for drivers and we hire over 100 drivers every week of the year."
A new study shows that the annual turnover rate for big trucking companies is 130%. That means to keep a thousand trucks running they have to hire 1300 drivers a year. The employment crunch has forced England to accept drivers with much less experience. But they insist they have not lowered their standards.
They've kept accident rates level for years by beefing up training, safety and drug testing programs. Incidents like last night are so rare, they say, it proves they're doing a good job.
Dan England: "When you are hiring that many people, you're once in a while going to get someone whose behavior you can't condone."
We still haven't determined whether Wilson has a police record. His employers say that's part of their problem too, they can't easily get reliable records. In Wilson's case he denied being a drug user or having a police record both times they hired him.
×
Most recent Utah stories