Estimated read time: 2-3 minutes
This archived news story is available only for your personal, non-commercial use. Information in the story may be outdated or superseded by additional information. Reading or replaying the story in its archived form does not constitute a republication of the story.
Coco Warner ReportingThe battle over a piece of land that borders both North Salt Lake and Salt Lake City heated up today, with each side insisting they would protect the land as open space.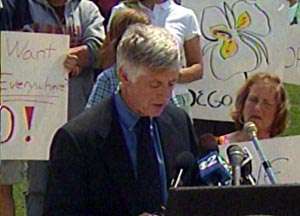 The land in question lies above Beck Street, northwest of Ensign Peak and southeast of all the new development you can see making its way up the foothills of Bountiful and North Salt Lake. And the debate about what should be done with it turned into a showdown between two mayors.
North Salt Lake owns about 80 acres of the land and wants to develop part of it. But this property lies within Salt Lake City's boundaries and Mayor Rocky Anderson says he is against any development in the area.
Today the Mayor Anderson sponsored a rally and announced his intent to condemn 13 acres of the property, he says, in an effort to protect the land against development and preserve it as open space. North Salt Lake Mayor Kay Briggs says his city also wants to preserve the majority of the land, but doesn't see the issue as any of Salt Lake City and Mayor Anderson's business.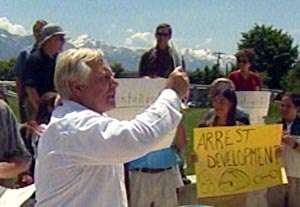 Rocky Anderson, Mayor Salt Lake City: "We have tried to negotiate with North Salt Lake, but unfortunately, the majority of North Salt Lake's elected officials don't seem to recognize the beauty and non-monetary value of this land beyond the dollar signs."
Kay Briggs, Mayor of North Salt Lake: "And I don't want to leave it in Salt Lake's hands to have more, 50 more years of very poor planning. I'd much rather put it in somebody I trust, and that happens to be us."
Mayor Briggs insists that if Salt Lake City has control people will lose recreational access to the land. You can see that the issue has turned into, as he said of the situation, failed negotiations between the two cities' councils.
The future of this property may very well be decided in court.
×
Most recent Utah stories