Estimated read time: 2-3 minutes
This archived news story is available only for your personal, non-commercial use. Information in the story may be outdated or superseded by additional information. Reading or replaying the story in its archived form does not constitute a republication of the story.
SALT LAKE CITY (KSL News/AP) -- Three people killed in an unusual chain of collisions on Interstate 80 Saturday have been identified by the Utah Highway Patrol.
Killed were Rachel Mcteer, 29, American Fork, Misteea Brallier, 35, Bountiful, and William Price, 80, of Salt Lake. All three died in an eight-vehicle crash that occurred when an eastbound semi plowed into traffic stalled by an earlier accident.
Brallier's daughter, 16-year-old Courtney Brallier, also of Bountiful remained hospitalized in critical condition on Sunday, highway patrol Sgt. Wade Breur said.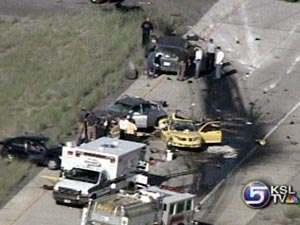 Five others suffered minor injuries, including the 40-year-old semi driver, Robie Dalrymple of Albertville, Ala.
The incident tied up the freeway for about seven hours Saturday night. There were at least five separate accidents, within about a mile of each other. It was on a stretch of freeway where conditions were clear, dry and wide open with good visibility.
Some cars were so crushed and smashed, it was hard to make out what they were. The first crash, the one that started it all, was triggered by a wrong-way driver. Investigators say he was under the influence of alcohol and drove westbound on the eastbound lane.
While rescue workers dealt with that initial crash and three serious injuries, four more accidents occurred in about 40 minutes.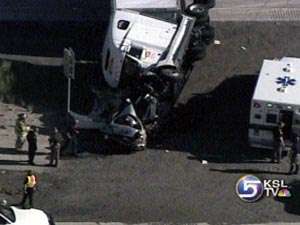 The fifth crash was by far the most serious. A semi rammed eight stopped vehicles at freeway speed. According to one witness, it was like a bowling ball knocking down pins.
Sgt. Terry Woodward, Utah Highway Patrol: "According to our witness statements, there was no braking prior to impact."
One highway patrol official said the only possibilities are the semi driver was asleep, distracted or impaired. Investigators also looked into the possibility of mechanical failure. But it's hard to explain why the trucker didn't even steer around the stopped cars.
Sgt. Terry Woodward, Utah Highway Patrol: "There's obviously a right emergency lane and a field right next to it. Why evasive action wasn't taken we don't know at this point."
Three people were killed, several others were injured.
Among the things being looked at are the number of hours Dalrymple had been on the road as well as inattentive or impaired driving.
As of Sunday, no one had been arrested in connection with the accident. However, a UHP spokesman said charges are likely against the semi driver, and against the wrong-way driver.
(The Associated Press contributed to this story)
×
Most recent Utah stories