Estimated read time: 1-2 minutes
This archived news story is available only for your personal, non-commercial use. Information in the story may be outdated or superseded by additional information. Reading or replaying the story in its archived form does not constitute a republication of the story.
Ed Yeates ReportingA Salt Lake marathon runner got in serious trouble, not because she drank too little, but because she drank too much. It's a bizarre condition - the opposite of dehydration - and one physicians are seeing more frequently now.
Elizabeth McCoy is running again, but slow and easy. While competing in a 50-mile marathon in Colorado she did what she thought all runners should do, drink plenty of water, keep the body re-hydrated. But she collapsed and was rushed to a hospital.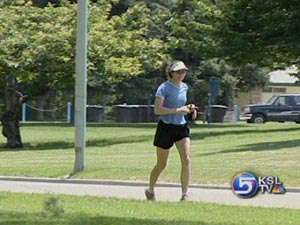 Elizabeth McCoy: "And I had a grand mall seizure and ended up in what they call a level six coma in the ICU for 36 hours."
What happened to Liz is unusual, but it's occurring more frequently now. In fact, in the Boston Marathon a 28-year old woman who gulped sports drinks along the way collapsed and was later declared brain dead.
Unlike dehydration, too much water dilutes sodium in the body, causing a condition called hyponatremia. Though she finished the race, Liz cannot remember the last 15 miles.
Elizabeth McCoy: "My memory of that is very foggy and my doctors think I was probably euphoric."
Another problem is runners, hikers, and cyclists who may begin re-hydrating hours even days before an event. They over do it so that during the actual competition even the sodium in sports drinks is not enough to override the dilution.
Elizabeth McCoy: "Even if you're drinking sports drinks, it's hard to bring your sodium level back up to a normal, to the way, to where your body needs it to be for a longer endurance run."
Don't get us wrong, we need plenty of water in hot weather to prevent dehydration. But in this case, too much of good thing can be bad.
×
Most recent Utah stories