Estimated read time: 1-2 minutes
This archived news story is available only for your personal, non-commercial use. Information in the story may be outdated or superseded by additional information. Reading or replaying the story in its archived form does not constitute a republication of the story.
Samantha Hayes ReportingA train derailed in Orem near Geneva Steel this afternoon. Clean-up crews are on the scene trying to get things back to normal.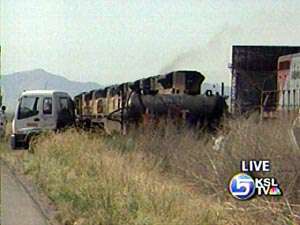 They don't think anything dangerous spilled, and they're still trying to figure out how the accident happened. But it was a chain reaction. Two railcars buckled and broke apart, spilling a load of drywall. They also pushed off the three engines in front of those cars. That, in turn, affected the three cars in back, jack-knifing them.
Union Pacific workers are going back and forth, trying to figure out how much has been pushed off the tracks. They say it will take a long while to clean up.
From what Orem police can tell, they say it probably happened as the train was slowing at the intersection of Geneva Road and 400 South. The train either was going too fast, or the air hose that connects the cars broke, kicking up a safety mechanism that activates the brakes. If that happened suddenly it could have caused the cars to buckle.
The derailment also caused a brief grass-fire that was put out fairly quickly. There were also some other safety concerns.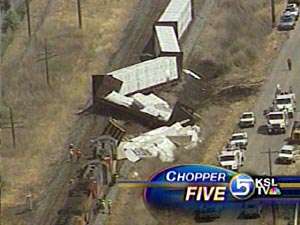 Doug Edwards, Orem Police: "There was some concern, a couple of tanker cars further down the train held nitrious oxide. They've checked those over very carefully and don't feel like there's any leak. In fact, the only leak right now we know of is about 10 gallons worth of diesel that leaked out."
The cars carrying the chemicals were disconnected and moved to clear the intersection at Geneva Road and 400 South. Police say there are no safety concerns, just an inconvenience for some people who were trying to get through the intersection at the time.
×
Most recent Utah stories