Estimated read time: 2-3 minutes
This archived news story is available only for your personal, non-commercial use. Information in the story may be outdated or superseded by additional information. Reading or replaying the story in its archived form does not constitute a republication of the story.
Tonya Papanikolas ReportingThe attorney general's office has filed a petition today asking a judge to terminate the parental rights of polygamist John Daniel Kingston and Heidi Mattingly. Mattingly was working towards being reunited with her children.
She says it's not a real big blow because she feels like she's been doing everything to comply with the court's orders. She also said she had to have faith in a broken system.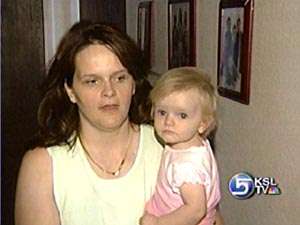 Heidi Mattingly currently lives in a home with her one-year-old daughter and two sons.
Heidi Mattingly: "Three fourths of her life has been away from her family. She doesn't know that's her family."
Mattingly's eight other kids with polygamist husband John Daniel Kingston are in foster care. And if the state has its way, they will stay in state custody.
Carol Sisco, Dept. of Child & Family Services: "We've asked the AG's office to file a petition with the juvenile court recommending termination of parental rights."
Today a DCFS spokeswoman said they've learned a lot more about the conditions the kids faced living with their parents, though she can't give details.
Carol Sisco: "If we'd initially known what we do now, we would never have recommended reunifying the family."
Sisco also says they haven't seen behavior changes from the parents, so they can't assure the kids' safety. But Mattingly disagrees.
Heidi Mattingly: "I know we are doing everything to comply with the orders. I don't know what more I can do. I have a nice big house that I bought; I have a nice big vehicle that I bought."
Mattingly says this petition is not a big surprise and she still remains optimistic she will be reunited with her kids.
Heidi Mattingly: "I love my kids. I love my kids with all my heart. And my kids love me."
Mattingly says she's done everything the court ordered, including taking parenting classes. She says she loves her kids and knows they want to be with her. The two oldest girls have said they do not want to go back with their parents.
After the petition is officially filed with the court, likely tomorrow, a judge will look it over. They'll probably have some hearings, and then the judge will make a final decision.
×
Most recent Utah stories