Estimated read time: 2-3 minutes
This archived news story is available only for your personal, non-commercial use. Information in the story may be outdated or superseded by additional information. Reading or replaying the story in its archived form does not constitute a republication of the story.
CLICK HERE for a Photo Gallery of the Wasatch Jr. High FireJed Boal Reporting
Investigators wrapped up their job with the fire that ripped through Wasatch Junior High yesterday. They confirmed the fire started in a computer server and spread quickly. Fire and water wiped out the interior of the school.
The school has been declared a complete loss. The school district will try to salvage what it can, but does not expect to recover much.
Now the investigation is complete, the school district has secured the building and will have to decide what happens next with the building. The State Fire Marshal says the fire started right where the principal first saw flames.
A computer server sparked the fire and the flames found plenty of fuel. Fire destroyed 70 percent of the school, water damaged the rest. Charred ceiling, boxes of burned books and melted chairs litter the classrooms.
Ron Morris, Utah Fire Marshal: "If you could write a recipe for a fire, that was a good one to write. It had a little start, got a lot of fuel in a short amount of time, and spread rapidly."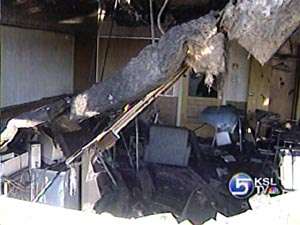 A circuit overload of power provided the spark; paper, books and a wood ceiling gave it fuel; and intense flames forced firefighters into a defensive mode. The district will determine if it can salvage anything.
Cpt. Gaylord Scott, Unified Fire Authority: "The southern end doesn't look like it has much damage, so much water damage and smoke damage, easier to tear it down and start over. The area affected by the fire, it's just total destruction."
Firefighters say water supply was so poor some of their nozzles did not work.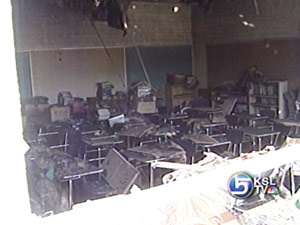 Cpt. Gaylord Scott, Unified Fire Authority: "If we had had the water supply we needed, there's a chance, I can't say it would have changed anything, but there's a chance we could have stopped the fire long enough to make a stand."
The school is several blocks from Millcreek Townshipp, slated for a 14-million dollar upgrade for fire protection.
The deputy director of Salt Lake City Public Utilities says his computer models show water volume and pressure were adequate. He says there were not enough hydrants by the school. He contends the system is adequate to fight fires in the residential area. This big fire was just too much for the system.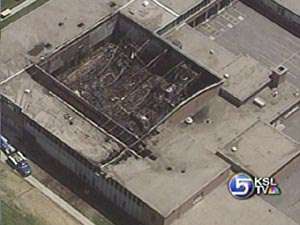 For now it's boards on the windows and an uncertain future.
Electrical fires are common, computer fires, not that common. A surge protector is a good idea, and make sure the area around a computer is clear of flammables.
×
Most recent Utah stories