Estimated read time: 2-3 minutes
This archived news story is available only for your personal, non-commercial use. Information in the story may be outdated or superseded by additional information. Reading or replaying the story in its archived form does not constitute a republication of the story.
Samantha Hayes reporting A man died Wednesday morning when his motorcycle hit a dump truck head-on. It is the second fatal motorcycle crash this week.
Its a popular time of year to hop on a Harley, but the danger is always there.
Most everyone knows motorcycles are dangerous, but one look at a nice bike, and who hasn't been tempted? They are a lot of fun. Problem is, you can pay for that feeling with your life.
It's the purr of the engine, the wind whipping your hair.
Krista Dahl, Motorcyclist: "You have freedom, you are not locked in a car with the air conditioning going."
It's so tempting to want to go .just a little faster.
David Hensley, Motorcyclist: "Just out there looking for fun."
The very things that make motorcycles fun, also make them extremely dangerous. Eighty-six percent of motorcycle drivers involved in a crash are injured.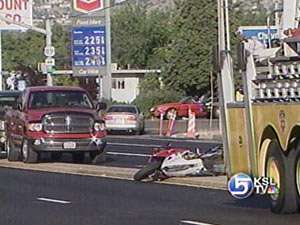 Chalyce Stevens, Witness: "All I heard was a crash, and then the bike went flying by my car and he landed next to my car."
In this case, the accident was fatal. Murray Police say the man lost control on his motorcycle and slammed into the median.
A second fatal accident this morning, when a biker hit a dump truck head on.
Dan Starks, South Jordan Police Dept: "Obviously speed kills. It sounds a little bit silly and redundant, but it truly does."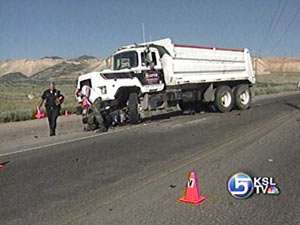 In Utah, in 2003- 22 motorcyclists died in crashes. In 2004- 28 fatalities.
David Hensley, Motorcyclist: "In order to not become one of the statistics I wanted to learn the proper skills of riding a bike. "
The DMV recommends classes, but most bikers don't take advantage of them.
Twila Martinez, Motorcycle instructor: I love teaching because I want to see people be safe out there. I wish they had these classes when I started riding 32 years ago."
Its not fool-proof, but the instruction may help balance safety with the need for speed.
Krista Dahl, Motorcyclist: "The winds blowing through the vents in your jacket and you are like 'this is cool' "
Utah statistics show a motorcyclist is 16 times more likely to die in an accident than someone riding in a vehicle.
×
Most recent Utah stories