Estimated read time: 3-4 minutes
This archived news story is available only for your personal, non-commercial use. Information in the story may be outdated or superseded by additional information. Reading or replaying the story in its archived form does not constitute a republication of the story.
SALT LAKE CITY -- Monday brought better news about the cyclist who slammed into the back of an SUV in a charity race Saturday. Family members say Dave Collins of Mesa, Ariz., continues to recover each day and they are feeling very encouraged.
They are also very thankful for the efforts of an Army medic and others with medical training who helped stabilize Collins when he was losing a lot of blood.
When Collins hit the SUV, he was going about 45 miles per hour in American Fork Canyon while participating in the 1,000 Warrior charity bike race. He was cut from his jugular vein to his sternum.
Friends on the scene feared he might die right there, but several people with the right training jumped in to help.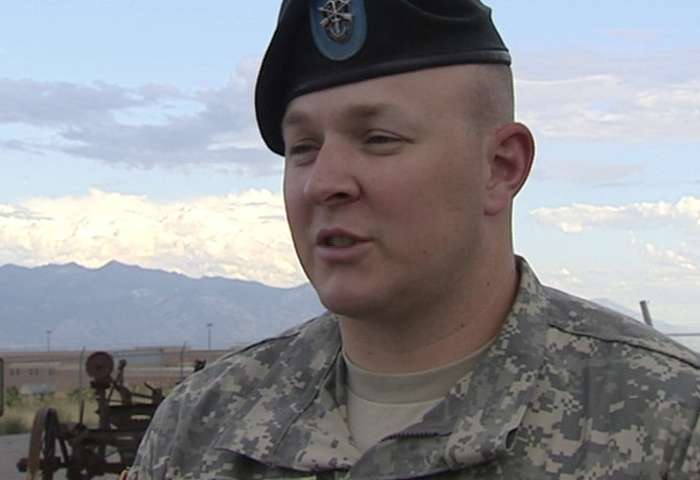 A military medic and two EMT-trained riders tended to Collins' severe wounds while they waited for the ambulance. In addition to the severe bleeding, the Provo native broke his jaw and damaged a nerve in his shoulder.
Sgt. 1st Class Brady Johnson of the Utah Army National Guard was headed up the canyon with his wife and two boys when he saw the chaos, pulled over and jumped out with his medical bag.
"It was pretty amazing, the fight that he had in him," Johnson said.
The Green Beret medic says he has never had to use his skills outside the military, but he says that's why they train.
"We didn't really understand how injured he was until we turned him over. Then we realized he had some big gashes on his neck and chest area," Johnson said.
He was impressed with Collins' ability to keep breathing even though he was unconscious.
"Through his own will and desire, he was able to continue to breathe, and we were able to stop the bleeding and keep him stable enough that the paramedics could get him out," Johnson said.
The Utah Highway Patrol says the driver of the SUV braked quickly to avoid a vehicle in the opposite lane. Collins and Steven Beck crashed into the SUV.
Three other riders wrecked trying to avoid the vehicle; all of those riders are part of a Mesa cycling club that made the trip to Utah.
Earlier Monday evening, Johnson got a call from the Collins' family.
"Just to say thanks," Johnson explained. "And tell me he was improving and that everything that they were hearing back was positive. That's always good to hear."
Johnson is still amazed that Collins survived.
"That was the most surprising thing about it. As you see some of the photos after of the vehicle and his bike and the severity of his wounds, how strong a person he must be physically and mentally to be able to continue to fight and breathe on his own," Johnson said.
The 1,000 Warriors bike ride is an annual event that raises money for scholarships for wounded war veterans and the children of veterans killed in action. It is held in conjunction with, but is not related to, the Tour of Utah.
The race was stopped to allow a medical helicopter to land. It resumed with riders crossing the finish line at Snowbird.
Collins underwent 14 hours of surgery Sunday and will remain sedated until Tuesday. The family says he will have follow-up surgery Friday, but they feel very encouraged.
E-mail: jboal@ksl.com
×
Related stories
Most recent Utah stories