Estimated read time: 3-4 minutes
This archived news story is available only for your personal, non-commercial use. Information in the story may be outdated or superseded by additional information. Reading or replaying the story in its archived form does not constitute a republication of the story.
John Hollenhorst ReportingA huge ranch in Eastern Utah will go on the auction block this weekend and it's not just any ranch. It's owned by a Texas billionaire who's been at the center of controversy, and who's been variously described as a great defender of property rights, or a "bully."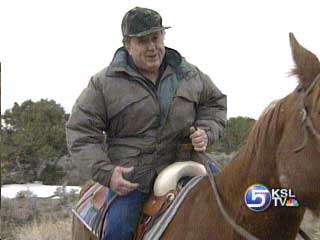 Texas oilman Oscar Wyatt bought the Bookcliff Ranch a decade ago and he quickly went to war. When he flew us in his personal helicopter in 1997, he was angry about enormous herds of elk on federal land, but where Wyatt had bought cattle grazing rights from government agencies.
Oscar Wyatt, Bookcliff Ranch, April, 1997: "They do not have the right to burn my grass off by fire or to send in elk to eat it."
Never one to shrink from a lawsuit, the Texas billionaire went to court.
Don Peay, Sportsmen for Fish & Wildlife, April, 1997: "And now he's a bully, trying to win through being a bully."
At the time, government agencies and conservationists were trying to buy up ranches in the Book Cliffs area to create a favorable balance between cattle and elk. Wyatt tried to block it, defending he said, property rights of ranchers.
Oscar Wyatt, Bookcliff Ranch, April, 1997: "I want what I'm entitled to. And I want the other people to have what they're entitled to."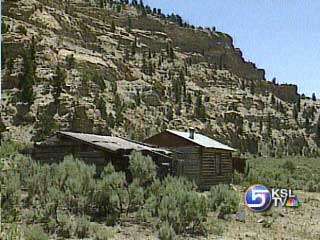 Now Wyatt plans to sell out. If his old opponents are glad to see him go they aren't saying so.
Chris Montague, The Nature Conservancy: "I think in the beginning there was some friction, obviously there was some friction."
Chris Montague of The Nature Conservancy says Wyatt's company ultimately followed the rules.
Chris Montague: "They've been a good ranch owner operator out there and I don't think they've been really negative impact of wildlife."
A top wildlife official says the vision of the Book Cliffs wildlife initiative remained intact, thanks to Wyatt's neighbors.
Walt Donaldson, Utah Div. of Wildlife Resources: "The vision of the Book Cliffs to me actually came to pass because we had some willing landowners who were willing to work with us. And when we picked up two of the ranches out there, we spread their grazing out."
Wyatt is out of the country right now, but a close associate told us he thinks Wyatt believes he came out ahead in his battles and kept his land from becoming a wildlife sanctuary at the expense of other uses. Wildlife interests are not expected to bid for Wyatt's ranch.
Walt Donaldson: "Because of the fast time line in which he wants to sell the ranch, we are not able to come up with the funding or the agreements to allow this to happen."
Chris Montague: "He had originally been asking for an awful lot of money. So what it's worth is gonna be what it auctions for."
Wyatt reportedly has tried to sell the ranch for a ballpark price of about ten million dollars. The auction of Wyatt's Bookcliff Ranch will be at 11am tomorrow at the Weston Plaza Hotel in Vernal.
×
Most recent Utah stories