Estimated read time: 5-6 minutes
This archived news story is available only for your personal, non-commercial use. Information in the story may be outdated or superseded by additional information. Reading or replaying the story in its archived form does not constitute a republication of the story.
SALT LAKE CITY -- After two and a half weeks of training in the August heat, our local college football teams have wrapped up fall camp and now begin preparations for their season openers. What did we learn about these teams during fall camp? Here are Five Observations.
5BYU's passing game will be fine without Austin Collie.
McKay Jacobsen showed during camp that he is capable and ready to be the Cougars No. 1 receiver just nine months removed from a mission. O'Neill Chambers has matured and seems poised for a breakout year. We know Dennis Pitta is one of the best tight ends in the country and Andrew George would start for every other team in the conference. The Cougars also have guys like Luke Ashworth, Spencer Hafoka and others that will provide plenty of depth at the receiver position. Max Hall will have plenty of weapons at his disposal and the departure of Collie should lead to better ball distribution among the many different receivers making the offense much more effective. And don't forget the pass catching ability of both Harvey Unga AND Manase Tonga. Tonga's return could be big for BYU if he can play at the same level he did in 2007.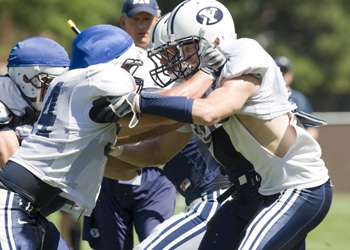 4Injuries have taken their toll.
At BYU, injuries have been a major problem at several positions but especially on the offensive line where depth was already an issue. They lost starter Jason Speredon for the season as well as backup lineman Houston Reynolds who suffered an ACL injury. The biggest concern was the loss of starting left tackle Matt Reynolds with a broken hand. You can argue that Matt is the most important player in the Cougar offense because he is responsible for protecting Max Hall's blindside. BYU cannot afford an injury to Max Hall. It sounds as though Reynolds will return for the Oklahoma game but the lack of O-Line depth could be a problem this season. Max Hall doesn't seem concerned and praised the offensive line after Saturday's scrimmage. He believes they will be just fine this season. As for the Utes, they received a scare when defensive end Koa Misi suffered a back injury. First, it was thought to be just back spasms, then it sounded more serious when, in a press release, the school said he would be "out until further notice" and used HIPPA laws to explain why they wouldn't give any detail about the injury. This fueled speculation that Misi's injury was very serious. But then Ute fans received good news later in the week when we learned that he is questionable for Utah State and probable for San Jose State. The concern over Misi's injury shows just how important he is to the Utes success this season. His return before the Oregon game would be huge.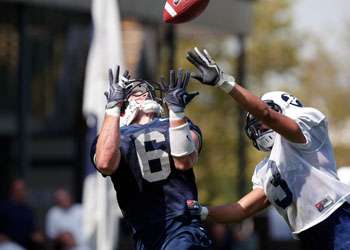 3BYU's secondary will be better this season.
The team still has not named a starter at the field corner position and Brandon Bradley's knee trouble has the boundary corner position up for grabs. But the Cougars haven't had this much depth in the defensive backfield in years. The competition for starting positions is a good sign and, despite the lack of experience at the Division I level, whoever emerges should be solid. At the safety position Scott Johnson and Andrew Rich should do well but keep your eye on true freshman Craig Bills. Utah's 2009 Mr. Football has been making plays in fall camp and could have an impact on the Cougar defense this season. 2The state's other teams should be better in 2009.
Weber State had an incredible year in 2008 winning a share of the Big Sky title and advanced in the playoffs for the first time since 1991. With running back Trevyn Smith and quarterback Cameron Higgins back, the Wildcats may be even better in 2009. In Logan, Gary Anderson has taught his new players to "respect the process" and should improve their record this season. After a tough non- conference schedule the Aggies face three of the top four teams in the conference at home. If they can somehow go 5-3 in conference there is a good chance they could go bowling for the first time since 1997. With former BYU Cougar Cade Cooper at quarterback Southern Utah should improve on their 2008 win total and Dixie State finally has experience on their roster as they continue to make the transition to NCAA Division II. The only way Snow College can get better is by winning a national title. They will have the talent to make another run this year as the Badgers continue to be one of the top JUCO programs in the country each year.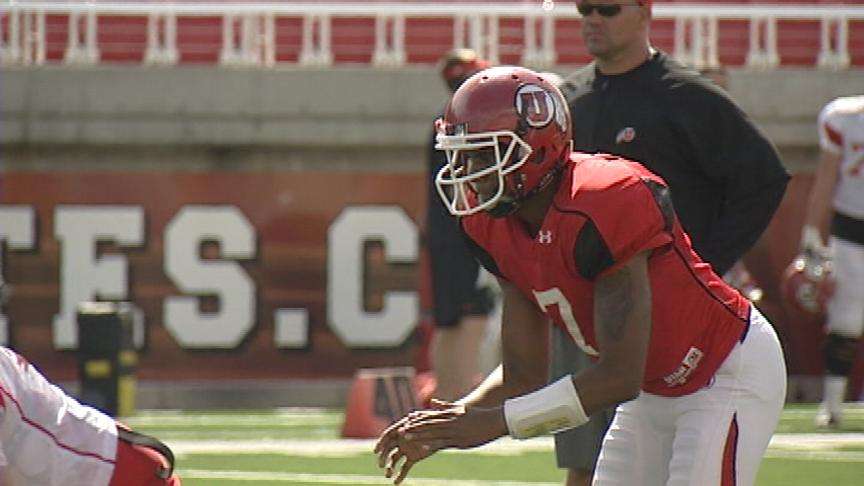 1We still don't know who will be Utah's starting quarterback.
Will it be JUCO transfer Terrance Cain or true freshman Jordan Wynn? Right now it's so close that Utah coaches can't name a starter. Is that good or bad? We will find out on September 3rd. The good news is the team has no desire to use a quarterback carousel in the season opener, something that has never ended well. They will name a clear-cut starter before game one and go with that guy for the rest of the season. You still wonder what impact a delay in naming a starter is having on the team, especially on the offensive side of the ball. The sooner they know who the starter the better. If you apply risk vs. reward to this situation Cain comes with less risk but Wynn has potential for greater reward. It will be very interesting to see how this situation plays out between now and the season opener. Video of the Week: Off the scoreboard, off the floor, nothing but net.
Countdown to the college football season: 10 days!
E-mail: jjensen@ksl.com
×
Most recent Utah stories