Estimated read time: 1-2 minutes
This archived news story is available only for your personal, non-commercial use. Information in the story may be outdated or superseded by additional information. Reading or replaying the story in its archived form does not constitute a republication of the story.
SALT LAKE CITY -- You may be getting into the football mindset now, but the people who manage college stadiums got into that mindset weeks ago. Just getting ready for the first game is a massive undertaking.
"It will take over 1,100 employees to prepare and work for a football game," said Mark Burk, services director for Rice-Eccles Stadium. It's a number that doesn't include people who work for the football team.
Burk says stadium expenses for each game total more than $50,000. This year, they had to spend roughly $4,000 just on some new items.
"We're having to put extra hand sanitizers in place, special soaps in the restrooms, or anti-viral soaps, due to the H1N1 [virus]," Burk explained.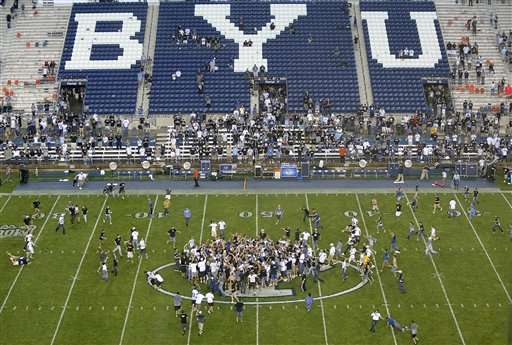 Over at BYU, it takes them about two months to get ready for opening day.
"It includes painting or resurfacing and fixing concrete, as well as actually cleaning and then testing all of the elements of a football game--such as the video walls and scoreboards," explained Larry Duffin, director of LaVell Edwards Stadium.
Duffin says cleaning alone takes a big chunk of their time.
"We try to start the fine cleaning about two and a half weeks before [the game]," he said.
Duffin says each seat has to be washed with high-powered hoses every year, and then they may have to wipe them down individually if a storm hits after they've been cleaned.
Even though they're working in rival schools, Duffin and Burk are actually good friends. Duffin says they get together once a month, along with all of the managers of every major stadium or arena in Utah, to discuss the most effective ways to do their job.
E-mail: pnelson@ksl.com
×
Most recent Utah stories