Estimated read time: 3-4 minutes
This archived news story is available only for your personal, non-commercial use. Information in the story may be outdated or superseded by additional information. Reading or replaying the story in its archived form does not constitute a republication of the story.
SARATOGA SPRINGS -- Something stinks in Saratoga Springs, and residents say it's coming from a local dump. Health investigators are getting to the bottom of it by sampling the air at the Peck Rock Landfill. On Wednesday they announced what's in the noxious fumes, and on Thursday they plan to sample the air inside people's homes.
Residents on the west side of Utah Lake started smelling something foul a couple of weeks ago. City offices have been getting a barrage of complaints.
"It's bitter, and it smells like, I don't know, kind of chemically," said Linda Sant who is temporarily living nearby with her grandchildren.
About a hundred yards away from the home Sant is living in, landfill workers are sifting some very old trash to get to the bottom of the stench. It's construction debris, legally dumped in the commercial landfill and buried under dirt several years ago. Lately, the stink has been waking up residents like Linda Sant's grandchildren.
"It's been kind of rough handling the breathing," Sant said. "I have congestive heart failure, so I've really felt it, but the kids start coughing about 5 o'clock in the morning and have trouble going to sleep."
The stench comes and goes, and hits some homes hard, others not so bad.
"Hasn't been too much," said Mike Hirschi who lives in one of the homes close to the dump. "Mostly it's just in the mornings or evenings, and it smells like brush fire."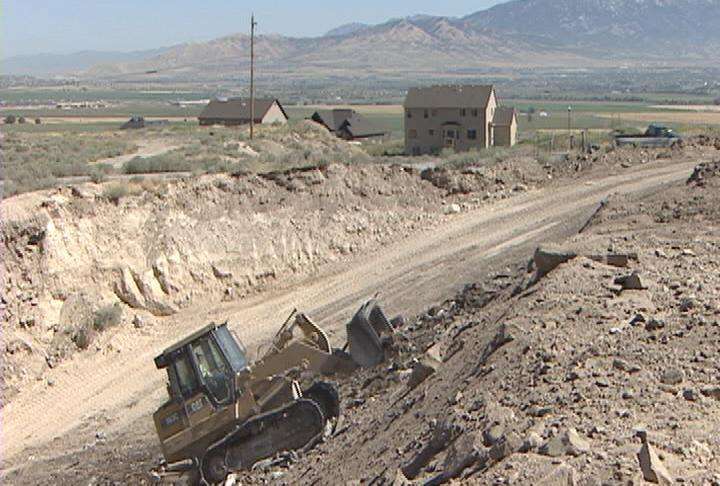 It apparently is a fire, even though there are no flames and, only occasionally, smoke. Investigators believe construction debris caught fire underground, probably from spontaneous combustion, and is slowly smoldering. Landfill operators have spent days digging up the fire and putting it out.
"What's burning is wood, plastics and things that are common in this landfill," said Matt Sullivan of the Utah Department of Environmental Quality.
Air sampling reveals a nasty stew of chemicals emanating from the dump, exactly what is expected when wood and plastics burn. Eight chemicals were found in the air:
acetone
benzene
toluene,
methyl chloride
methylene chloride
dichloroethene
ethylbenzene
styrene
The chemicals are in low concentrations and disperse quickly, so toxicologists don't believe they're a threat to human health, but they plan more testing to be sure.
Sant said, "My concern is, how is this affecting my grandchildren long-term, you know, to breath this every night?"
Those chemicals are potentially toxic; some are known to cause cancer, but the state does not consider the situation an emergency because no one lives right on top of the dump.
Sullivan said, "What we plan to do is, with the EPA (Environmental Protection Agency), is to go to the neighborhood and into some of the homes and actually sample there. The concern is what's in the air there and is that a problem or not?"
The EPA is bringing in a truckload of equipment from Denver. They expect to begin in-home air sampling Thursday.
E-mail: hollenhorst@ksl.comPeck Rock Landfill
×
Related links
Most recent Utah stories