Estimated read time: 3-4 minutes
This archived news story is available only for your personal, non-commercial use. Information in the story may be outdated or superseded by additional information. Reading or replaying the story in its archived form does not constitute a republication of the story.
HERRIMAN -- Wild mustangs that roam Utah and other parts of the west are headed for the ranch. They're being broken into domestic life by 34 trainers for November's Extreme Mustang Makeover event in Heber City.
The trainers picked up the horses from the Salt Lake Regional Wild Horse and Burro Center in Herriman on Friday. For the next 90 days they'll work with them, getting them used to cages, other animals and people so they're ready for adoption. The trainer who does the best job could win $10,000.
Wild Mustangs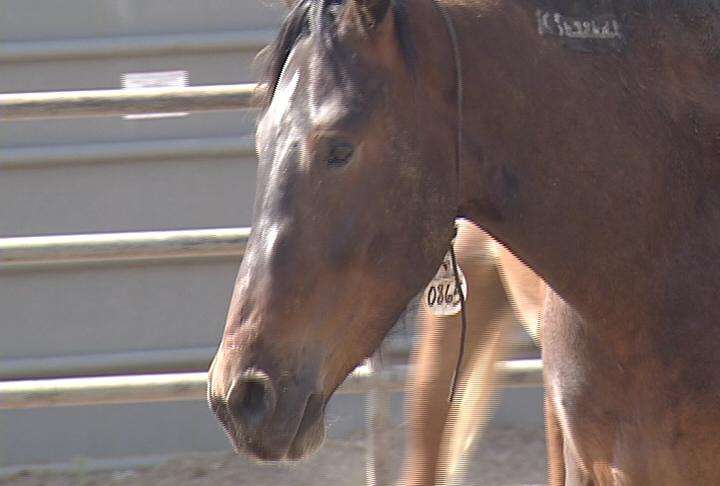 Wild mustangs roam Utah's wilderness in herds. There are roughly 3,000 in the wild. The largest herds live in Tooele County, the West Desert and the San Rafael area.
Occasionally their numbers explode, putting pressure on the ecosystem. Since there's no natural predator, the only way to control the number of horses is to remove some from the herd. The Bureau of Land Management then puts them up for adoption.
Several mustangs for this year's extreme makeover were removed from their Utah herds this year. The rest were taken from herds in Oregon, Wyoming and Nevada in 2006 and 2007.
Lisa Reid, public affairs specialist for the BLM, says all the horses are gelded, or "fixed," so they can't reproduce. This makes them less aggressive and dominant, and easier to train.
Trainers
The 34 trainers for the Extreme Mustang Makeover come from all over the west, but the majority are from Utah. Most have experience training domesticated horses. Wild mustangs are another story.
"A domestic horse already pretty much trusts you. And you got to almost break the will of a domestic horse to get to, to earn their respect," said Mark Moffitt, a trainer from Spanish Fork. "A mustang already fears you and respects you. You have to earn their trust, and that can take some time."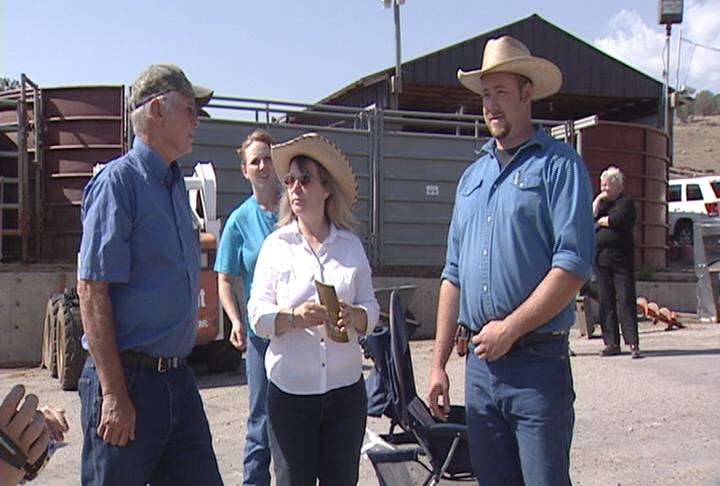 Trainers have to break the horses of their wild habits. They have to get them used to cages, bridles, other animals and people.
"I'm going to be kind of on edge for the next 24 hours until I can get him calmed down," said Chad McFetridge, a trainer from Riverton. "The first 24 hours you just don't know because he could challenge the fences I have, the transportation--you know, getting him in and out of the trailer."
Unlike a typical sale, these trainers didn't get to choose their horses. They entered a lottery and whatever horse they got they had to take. Moffitt says he got one that was calm and fit him. McFetridge ended up with one that had a little more energy.
Despite the challenges, trainers say breaking these horses in is very rewarding.
"They turn into be like, almost like dogs. When they do trust you. Man, they really become your buddy and friend," Moffitt said. "That is exciting to see a horse actually turn that corner."
Goals of the Extreme Mustang Makeover
The Extreme Mustang Makeover is a way to pair wild mustangs with experienced trainers. The end goal is to get them adopted by loving families.
"When I sell this horse at that auction, I want somebody to step right on him and have a blast," Moffitt said.
Trainers also have an added incentive, a $10,000 dollar prize for training the best horse--not to mention the commission check all trainers get from their horse's sale.
The opening price to adopt a wild mustang is just $125.00, not including everything you'll need to take care of it when you get it home.
The Extreme Mustang Makeover event happens during Heber City's Cowboy Poetry Gathering on Nov. 7. CLICK HERE for more information.
----
Story compiled with contributions from Keith McCord and KSL 5 News producer Linda Williams.
×
Related links
Most recent Utah stories