Estimated read time: 2-3 minutes
This archived news story is available only for your personal, non-commercial use. Information in the story may be outdated or superseded by additional information. Reading or replaying the story in its archived form does not constitute a republication of the story.
SALT LAKE CITY -- Firefighters were out Friday afternoon looking for the cause of a field fire that burned 80 acres and threatened Salt Lake International Airport.
The wildfire was contained early in the morning, but that's not to say that it's out. Salt Lake City Fire spokesman Scott Freitag says crews are still putting out spot fires.
"Most of it is in the burnt area, where it's already been burnt but it continues to burn," Freitag said.
He says these spot fires may continue for the next few days, so drivers along Interstate 80 may see them for a while, unless, of course, we get a soaking rain.
"We're watching the weather very closely. We're getting hourly weather updates, and if there are any warnings or alerts from the National Weather Service, they tell us," Freitag said.
He says the blaze near the airport is a reminder to everyone to be extra careful when lighting campfires or discarding cigarette butts.
The fire started Thursday around 6:30 p.m. near 700 South and 4800 West. At the height of its fury, it closed down part of the interstate, burned through a golf course restroom and got dangerously close to the airport.
By the time firefighters arrived, it was already creeping up on Bangerter Highway and I-80. By 8 p.m., fire crews shut down part of the interstate as the fire burned through overgrowth and dry vegetation.
Salt Lake City Fire Department spokesman Mark Bednarik explained, "It quickly blew it to the north, got right up against I-80. We were trying to contain it there, however the high winds were blowing heavy smoke with embers across the freeway."
Fire crews say the three-alarm fire jumped first to the freeway's median and then to the other side, where it burned up against one of the airport's runways near the Wingpointe Golf Course. No major structures were damaged, but a golf course restroom near the 13th tee did go up in flames.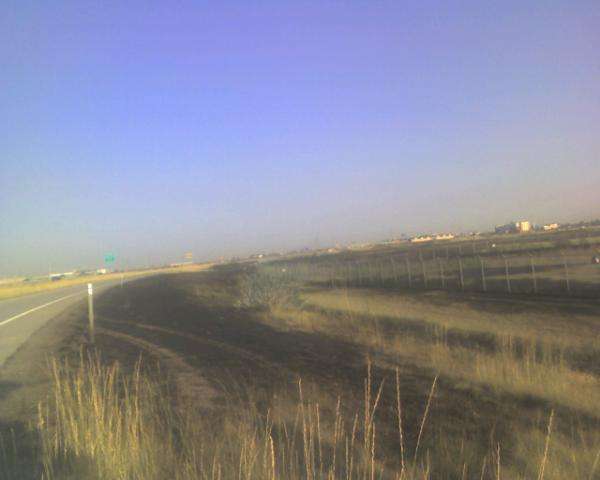 "The winds were very strong," Bednarik said. "I'm not sure the exact miles per hour, but they were very strong. It made communication difficult. It made even walking difficult."
At Salt Lake International Airport, 17 flights were diverted as the fire burned near that west runway. Most of those flights were able to return by midnight, but nearly 300 people were temporarily stranded.
Firefighters still don't know what caused the fire. They say it's possible a downed power line from the wind, or lightning may have sparked it.
------
Story compiled with information from Paul Nelson,Shara Park and Andrew Adams.
×
Photos
Related stories
Most recent Utah stories