Estimated read time: 2-3 minutes
This archived news story is available only for your personal, non-commercial use. Information in the story may be outdated or superseded by additional information. Reading or replaying the story in its archived form does not constitute a republication of the story.
SALT LAKE CITY -- Many people who have lost their jobs are finding a new career in an industry still looking for workers: trucking. Some of the new truck drivers include former bankers, mortgage brokers and other business professionals.
Roadmaster Driver's School in West Valley is one of many driving schools across Utah, and across the country, that is seeing a huge increase in the number of people who want to become truck drivers. Kim Sanchez, who lives in West Jordan, is one of them.
"I lost my job back in March," Sanchez said. "It's terrible out there. I've applied for half the money I used to make and still couldn't get a job."
So, Sanchez turned to big rigs. He's one of several students earning his commercial driver license (CDL) at Sage Technical Services trucker school in North Salt Lake.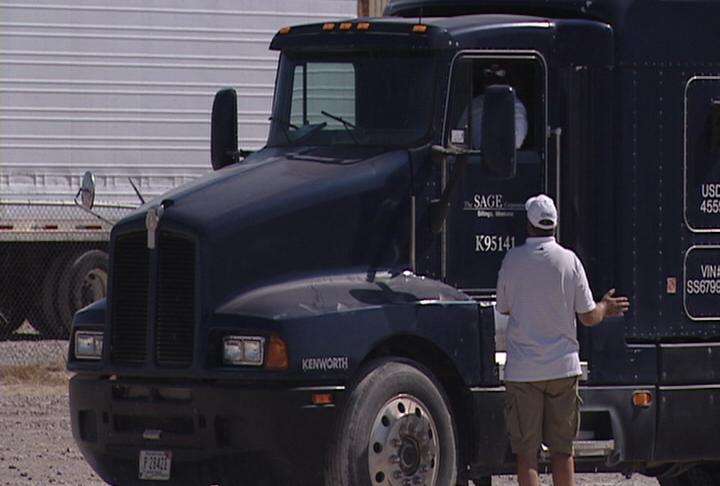 "I have to do something to feed my family," Sanchez said.
Guy Horn, who is the school director at Sage, says most of the people who sign up for his classes now have the same story.
"I've had pilots come through, guys with their MBAs; they're coming through and are ready for a change just because their current field is just not there anymore," Horn said.
He says he has noticed a huge increase in students in just the past few months.
"This year is definitely a double-digit increase from over last year," Horn said.
That also means competition for the top trucking jobs is increasing.
Ron Nichols, who runs Roadmaster Drivers School in West Valley, believes it's because more professionals with great resumes are turning to trucking.
"A couple of years ago, some of the people were questionable. Now we're seeing a lot of very qualified people," Nichols said. "It's just because so many big companies are laying off their employees, and then they're having a tough time finding good paying work."
Nichols says he opened another school in Brigham City recently to meet the demand for people wanting to earn their CDL.
"We've been the busiest this past year than ever. It's about double than when I came here in 2004," he said.
There is also a constant demand for truck drivers.
"We all want to keep eating, keep wearing clothes, and we like shopping," Nichols said. "All that stuff comes to stores on trucks."
Depending on the number of miles driven, truck drivers can earn $40,000 to $60,000 a year to start.
E-mail: acabrero@ksl.com
×
Most recent Utah stories