Estimated read time: 4-5 minutes
This archived news story is available only for your personal, non-commercial use. Information in the story may be outdated or superseded by additional information. Reading or replaying the story in its archived form does not constitute a republication of the story.
PROVO -- For the past 12 years, Dave and Cheryl Rose have given a great deal of time to the Children with Cancer Christmas Foundation. The group gives the children and their families a Christmas party each year to help ease their burdens.
Dave Rose can relate to these children even more, since he was diagnosed with cancer last month. On June 4 he and his family were at the happiest place on earth: Disneyland.
"There's my family, and everyone's laughing," Cheryl said as she showed us a family photo. "And I just remembered having that feeling: I'm the luckiest woman on Earth. My life is so good."
However, one hour after the photo was taken, Rose wasn't feeling so lucky.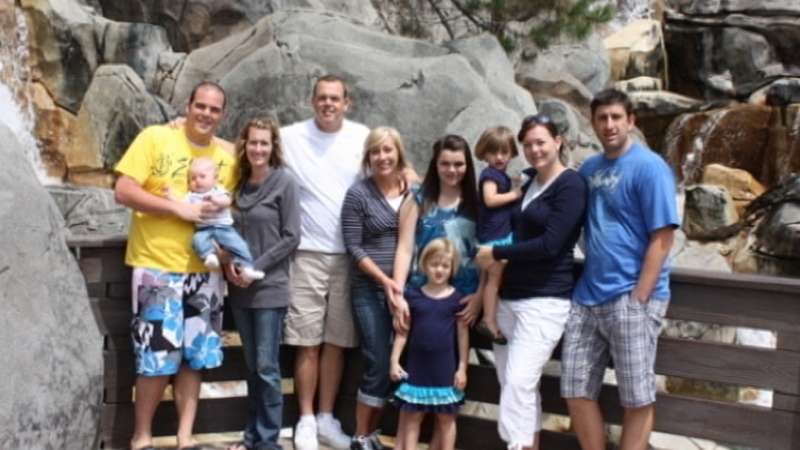 "I thought maybe I had the flu, maybe heat stroke or dehydration, but nothing very serious," he said.

It was serious. Less than 24 hours later, after a flight to Las Vegas, Dave was rushed to the hospital -- but he was certain it would be a short stay. After all, he had a basketball camp in a few days.

"I think, for me, when the reality hit that second day in the hospital when the doctor came in, and the doctor said, 'I really don't care about your job, I'm trying to save your life,'" Cheryl said.

"I started to get into a situation where the doctors, I could tell by looking in their eyes they were scared," Rose said.

Dr. Bernie Hanna was Dave's surgeon. He said if Rose had been on a much longer flight, he would not have survived.

"He was bleeding significantly," Hanna said. "He was alert, he was awake, but just looking at him he looked really sick."

So, Rose was rushed into emergency surgery where the doctor removed his spleen and discovered the problem: his bleeding was coming from a tumor -- a cancerous tumor -- partly attached to the pancreas.

Hanna had lost his wife to cancer just a few months earlier.

"If you ask me, in my mind, he saved Dave's life, absolutely," Cheryl said.

**What is pancreatic neuroendocrine carcinoma?**

Pancreatic [neuroendocrine tumors](http://www.cancer.gov/cancertopics/pdq/treatment/isletcell/patient/allpages) account for only five percent of all pancreatic tumors. They develop in the hormone-producing endocrine cells of the pancreas, and usually do not present with clinical signs (or symptoms). They grow slower than [adenocarcinomas](http://www.cancer.gov/Templates/db_alpha.aspx?CdrID=46216) and spread in a less-aggressive pattern. There are [several different types](http://www.pancan.org/Patient/Pancreatic/isletCell.html) of neuroendocrine tumors that can grow in the pancreas. They are named after the type of cell affected. Treatment (Surgery, chemotherapy, hormone therapy) for neuroendocrine tumors may depend on the type of tumor and whether it is cancerous or not. *-Huntsman Cancer Institute*

"The surgeon was able to remove all the cancer in emergency surgery. So, when you look into a lot of these things that happened, to me you can't think anything except that I'm blessed. I'm lucky," Rose said. Shortly after surgery, the test results were in.

"It took 24 hours or so for the pathologist to come back and let us know it was an endocrine tumor, which is a much better prognosis," Rose said.

Four days following surgery, rose was transferred to the Huntsman Cancer Institute in Utah for further testing. Not long after his return home he was declared cancer-free.

"We know for a certainty that what happened with Dave was a miracle," Cheryl said.

One of Rose's first priorities after returning home was a meeting with his players, reassuring his team he's still their coach.

"We need to prepare these players for life. They're going to be great leaders, great players. I just want to make sure when they get out there and life hits them they're ready for it," Rose said.

Just like it hit Rose so unexpectedly in June. Now, a month later, he continues to receive support from all over the country, and he's slowly increasing his work load.

Rose said the way he coaches the game of basketball won't change, though his game of life has been changed forever.

"If this all works out the way I want it to, and the way I think it's going to, there's no question this will be, as far as a life-changing experience, as good as anything we can go through," Rose said. "It will never be the same. We'll have a whole different perspective on everything we do because we've been given a second chance."

Rose has lost nearly 20 pounds and will have periodic scans to make sure the cancer does not return. He expects to be on the court in three months as he begins his fifth season as BYU's head basketball coach.

E-mail: kaiken@ksl.com

×
Related stories
Most recent Utah stories