Estimated read time: 2-3 minutes

This archived news story is available only for your personal, non-commercial use. Information in the story may be outdated or superseded by additional information. Reading or replaying the story in its archived form does not constitute a republication of the story.

SALT LAKE CITY -- The semi-annual Outdoor Retailer Show has the streets of Salt Lake City buzzing with activity, and that means a big boost to the local economy.

Outdoor Retailer seems to get larger each year. At least 22,000 people have come to town for this year's show, and each of them may spend just under $1,000 each.

**By the numbers: Outdoor Retailer Summer Market**

• Five days long • 22,000 visitors • $889 on average, each visitor expected to spend each day • $19 million In direct local economic impact (including hotels, restaurants, food service, exhibit companies, staging, transportation, support services) • Nationally outdoor sales are down 5% from 2008 - *Salt Lake City*

The line is out the door at Toasters, a sandwich shop close to the Salt Palace. It's so busy, the staff can't take a break.

Enes Huskic, the shop's owner, isn't complaining. "Let's say three times what we do in an average day. Three, four times. So a little hectic, but we love it," he said.

Toasters is just one shop that's thanking the Outdoor Retailer Show for the extra business. This year, 900 exhibitors and vendors are selling a variety of innovative and high-tech products geared to active, outdoor-oriented people.

**By the numbers: Utah Outdoor Recreation Industry**

• $5.8 billion: Annual contribution to Utah's economy • $4 billion: Annual retail sales and services across Utah • $300 million: Annual state tax revenues • 65,000: jobs supported by outdoor recreation - *Salt Lake City*

The Salt Lake Convention and Visitors Bureau estimates immediate, total economic impact at $19 million for this four-day show. There is a residual ripple effect into the economy, too.

"This really caters to the outdoor enthusiast, which is not going away, They're loyal supporters," said Tim Birdsong with New Balance Shoes.

There are products like Gibbon Slacklines, branded as inexpensive, simple and trendy. According to outdoor industry officials, products like these, as well as camping, hiking and climbing gear, are more 'recession-proof'.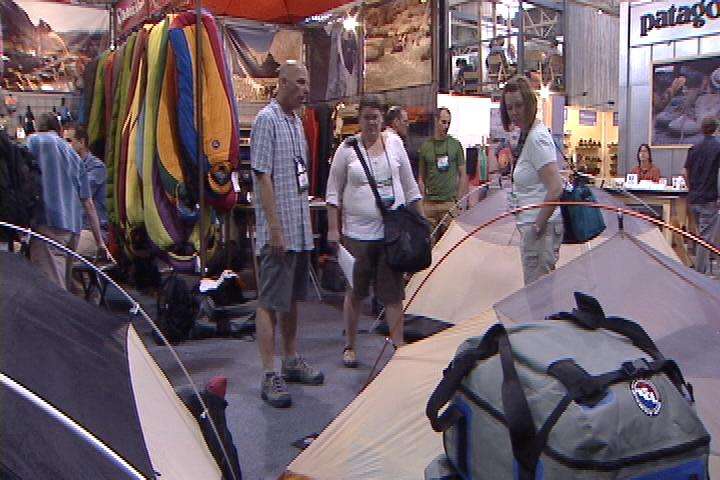 "More people are not going on long-distance travels anymore. They'd rather go on holiday by car, go camping and then take a fun product with them to have some enjoyment," said Robert Kading with Gibbon Slacklines.
The business Outdoor Retailer generates for Utah is so significant, the state and Salt Lake County paid to expand the Salt Palace to accommodate it. It's an investment that is apparently paying off.
E-mail: rpiatt@ksl.com
×
Most recent Utah stories