Estimated read time: 2-3 minutes
This archived news story is available only for your personal, non-commercial use. Information in the story may be outdated or superseded by additional information. Reading or replaying the story in its archived form does not constitute a republication of the story.
WEST VALLEY CITY -- In 1847, pioneers arrived in the Salt Lake Valley. In 1849, those pioneers decided to celebrate with a parade and a rodeo, which continues 160 years later as the Days of '47 Rodeo.
This year, there's something new about the rodeo, and it's not what's going on inside. For the first time, the E Center is hosting the rodeo. Organizers say the cowboys needed a little extra elbow room that they weren't getting downtown.
In his downtime, steer wrestler Donald Goodman uses the extra room to play with his dog. Professional trick roper Anthony Lucia also needs some room to practice his act.
"Trick roping has been around a long, long time; but not how I present it," Lucia said.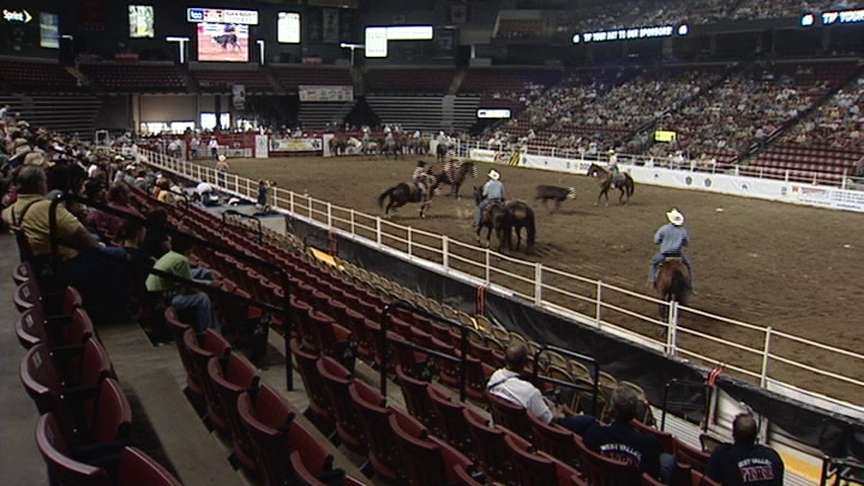 Both say they like the new digs at the E Center.
"The E Center is gorgeous. The sound is awesome. The parking is awesome," Lucia said.
It's no accident the Days of '47 Rodeo was moved from Energy Solutions Arena to the West Valley complex.
"Several different entities have been courting the rodeo, whether it's West Valley City Hall or different legislators in the area. It's really been a whole effort from every level," explained Aaron Crim, public relations director for West Valley City.
Crim says West Valley City expects those efforts to pay off.
"So when people visit the E Center, that gives them the opportunity to visit the businesses surrounding the E Center," he said.
As one of the nation's top rodeos, with cowboys and cowgirls from around the world and the 40,000 people who come to watch them, it should be good for business.
Brad Harmon, chairman of the Days of '47 Rodeo, explained, "It was the right fit."
Harmon says the decision to move came down to space.
"For them to be able to come in here and for me to say, 'park' has been incredible," Harmon said.
There are events planned at the E Center through Saturday. CLICK HERE for more information on the rodeo and a complete rodeo events list.
×
Related links
Most recent Utah stories