Estimated read time: 2-3 minutes
This archived news story is available only for your personal, non-commercial use. Information in the story may be outdated or superseded by additional information. Reading or replaying the story in its archived form does not constitute a republication of the story.
SALT LAKE CITY -- The Mormon Tabernacle Choir celebrated 80 years in broadcasting Sunday using a tool they know best -- song.
"Music and the Spoken Word" began with the first song of the first broadcast 80 years ago. The choir celebrates the world's longest continuous live radio network broadcast.
Mack Wilberg, the choir's music director, said, "The shoulders that we stand on are always foremost in my mind, of the literally thousands who have come before us who have made this program possible."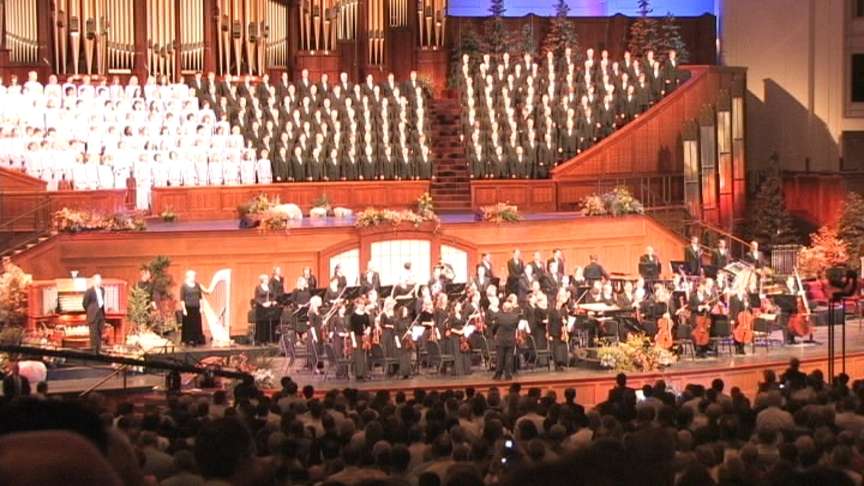 In its humble beginnings, a small group sang hymns at a church conference just 29 days after the pioneers entered the Salt Lake Valley in 1847.
The first broadcast was on July 15th, 1929. Former choir member Tom Rogerson's father was in that 1929 choir. "Dad was interviewed one time and he said, 'we didn't even think there'd be a second broadcast'," he said.
Sunday's broadcast was number 4,166.
Wherever in the world the choir travels, the broadcast is recorded. During 1998's European tour, the singers began in London, went on to Geneva and then to Barcelona.
Mac Christensen, the president of the Mormon Tabernacle Choir, said: "They're not soloists, they all could be, they're all great but they're one body. They sing as one group and they sing inspiring songs."
A special program filled with memories and gratitude followed Sunday morning's broadcast. It included a proclamation from Governor Huntsman and standing ovations for both past music director, Craig Jessop, and the current, Mack Wilberg.
#c2
"How wonderful it is that in all of this turbulence and change, each week on KSL Radio, KSL Television, on the CBS Radio Network and on hundreds of other media outlets throughout the world, this enduring beacon of inspiration and peace continues," said Bruce Reese, President and C.E.O. of Bonneville Communications.
The program ended with the hymn that closes every weekly broadcast, "God Be With You Til We Meet Again."
President Thomas S. Monson of The Church of Jesus Christ of Latter-day Saints said, "Over the years, this program of beautiful music and uplifting sermons has inspired countless individuals throughout the world."
In 2008, 10,000 broadcasts of choir programs aired in the U.S. and Canada.
E-mail: cmikita@ksl.com
×
Most recent Utah stories