Estimated read time: 3-4 minutes
This archived news story is available only for your personal, non-commercial use. Information in the story may be outdated or superseded by additional information. Reading or replaying the story in its archived form does not constitute a republication of the story.
Debbie Dujanovic Reporting
Produced by Kelly Just As Utah shoppers fill the aisles for holiday gifts, an Eyewitness News Investigation uncovers a brand new gift card scam-- one you need to see before you make your next purchase.
Millions of Americans dread holiday shopping. Enter the gift card.
Tonight's Eyewitness News Investigation uncovers why thieves love the cards as much as you do. We go undercover to show you how the bad guys are cashing in on the gift cards you put under the tree.
"I love gift cards, love them. They're the perfect gift."
Debbie: "Does it make life a lot easier?"
Shopper: "Oh, way easier."
"I think from day one, I go for gift cards because it's easy."
So easy to buy, we'll spend more than 24 billion dollars on gift cards this holiday season. But we found, crooks have figured out how to steal those purchases right out from under you.
"Have you heard of the latest gift card scam?"
"No, I haven't."
Jane Driggs/ Utah Better Business Bureau: "Consumers are trying to use gift cards and they're finding out there's no money on them."
So, imagine buying a 50 dollar gift card to send to grandma this year. If crooks have their way, by the time she goes to spend it, the card will have no money on it.
It's a scam Better Business Bureaus across the country are hearing about. We go undercover to show you exactly what the bad guys are up to. Seems they're stalking the same stores as you. But instead of buying their own gift cards, they're writing down account numbers from the ones you'll be buying.
"Anybody could get that number."
Once they have that number, it's easy to go online and figure out when the card's been activated and for how much. So the thieves log on to shop on your dime. We were able to do it ourselves.
To show you how it works, I buy an actual gift card. Before I cash it in, my producer uses the number to buy something for herself.
Debbie: "By the time somebody goes to spend it, it's all spent."
Shopper: "Really."
Holiday shoppers were glad to hear our warning.
There are a couple of things you can do to protect yourself from this gift card scam.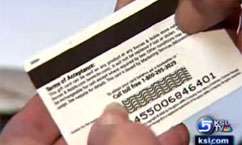 Some cards come with an extra security code or PIN number that's hidden under a protective coating. That's the kind of card you want to buy.
Then, always examine each card to make sure that code is still hidden. If the coating's been scratched off, buy a different card.
We found some advice to get the most out of gift cards, including buying from sources you know and trust. Avoid online auction sites. The cards could be fake.
Check purchase exceptions- does it include all items? in-store or online only? And, treat gift cards like cash. If lost or stolen, report it immediately.
We have a lot more advice, including a partial list of which stores use that extra coating. Just check the "Smart Gift Card Giving" page on the link above.
×
Related links
Most recent Utah stories