Estimated read time: 4-5 minutes
This archived news story is available only for your personal, non-commercial use. Information in the story may be outdated or superseded by additional information. Reading or replaying the story in its archived form does not constitute a republication of the story.
LOGAN -- Hundreds of volunteers returned Sunday to a Logan neighborhood devastated by a massive mudslide. This, as recovery crews search for three people missing in the debris.
The canal bursts
A canal located in a wooded drop-off south of Utah State University burst Saturday, sending water and mud into a neighborhood spanning about six blocks. The area is known as the Island. One home collapsed, burying three people inside. Police say there is no way they could have survived.
The victims
Logan police have identified the victims as 43-year-old Jacqueline Leavey and her two children, 13-year-old Victor Alanis and 12-year-old Abbey Alanis. Officials say they are sure the family was in the home at the time of the slide.
"Family is certain they were in there. Witnesses are sure they were in there. They've been missing for 24 hours and both cars are there," said Logan Fire Chief Mark Meaker. "Her purse is there. Her driver's license is there. They are there. We'll find her. We'll find her and the children."
Rescue turns to recovery
Sunday afternoon, crews concentrated on removing debris from the area around the home. They used backhoes to lift trees, dirt and rubble left behind by the slide.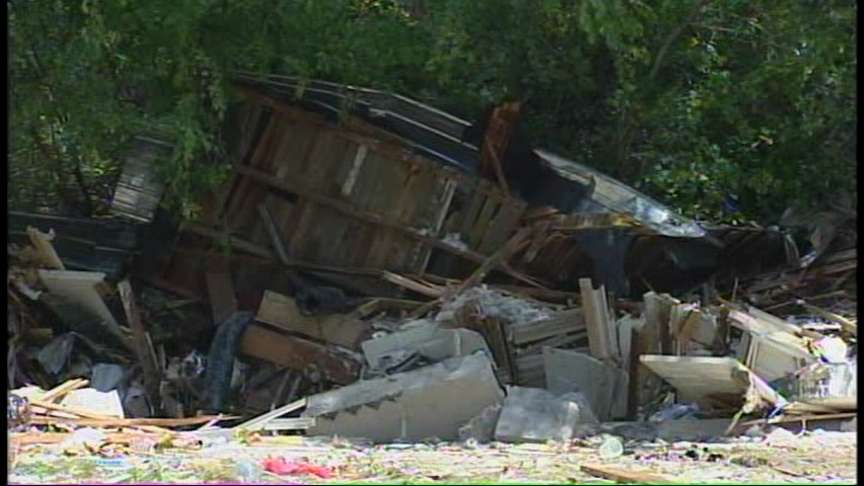 Meaker says the landslide came down with such force that it separated the upper portion of the house from the lower. Crews found the top of the home 20 feet from the foundation.
"Literally it's like here's a board, here's a baby doll, here's a blanket. Here's more dirt, and over there the woman's purse and so on," Meaker said.
Public works officials say they're starting to excavate behind the house. They've removed excess soil that was pushing up against the structure.
Firefighters won't go inside the home until the area is completely stable. There's still a possibility that the hill will slide some more because the ground is so wet.
Mark Nielsen, the director of Logan Public Works said, "We let it drain. Lots of water in the soil, we let that drain. Then as that stabilizes and we can go in there, make sure it's not going to slide anymore. Then we can get the house excavated as soon as possible."
Crews worked until dark. They'll continue the search Monday.
Lieutenant governor visits the site
Lt. Gov. Gary Herbert came straight from a conference to see the damage this disaster left behind. Crews took him up on an off-road vehicle to survey the canal, the destroyed home and the surrounding neighborhood.
When he came back, he told reporters that the state and city governments are doing all they can to assist in the recovery.
Herbert also said he has spoken to the family of the victims, who haven't yet commented on the tragedy. "They're obviously very distraught. They're holding out hope. I've assured them that we'll make sure their physical needs are taken care of," he said.
Volunteer efforts
Close to 1,000 volunteers returned to clean up the mess Sunday, mostly from local wards of the Church of Jesus Christ of Latter-day Saints. They scraped, shoveled and hauled debris in an effort to clean up acres of mud that roared down the hill and through the neighborhood.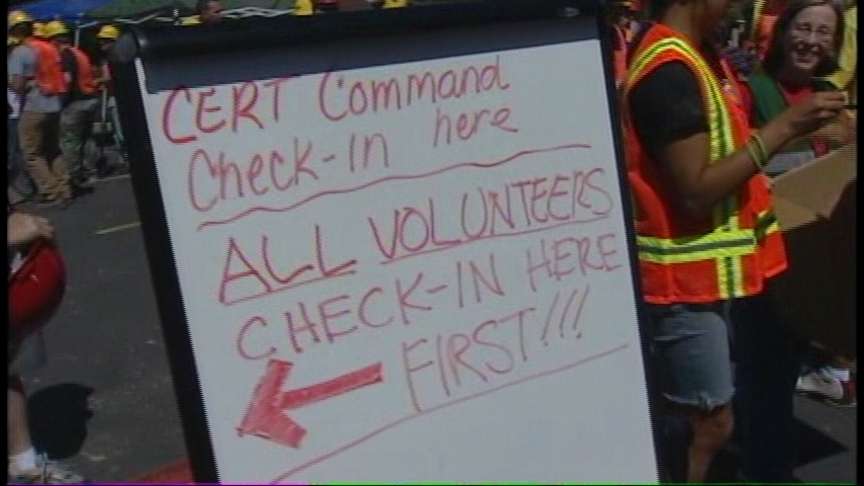 Volunteer Angela Baker said, "I live up against a hill, and I know if that happened to me, there would be someone there to help me."
There were more than a dozen houses with mud and water damage or structural concerns. Several families evacuated to a Red Cross shelter.
Warning signs
The fire chief says they now know the canal collapsed after moving water weakened the soils underneath it. What they don't know is whether the water leaked from the canal, or came from springs and drains nearby.
For several days leading up to the disaster, residents reported water coming off the hill and down the street. City officials say they never suspected a canal problem.
"There are springs all along that entire road on that slope and we have some water issues every year," said Nielsen.
Angry residents say the water should have been a warning sign because it wasn't clear like spring water, it was muddy.
Doug Roos lives two blocks away from the canal. "I'm saying that anybody with any sense would have seen the water rising, would have seen the mud in it across the street and would have thought 'there's something going on above this area, bringing all that down'."
There are no state inspections of canals. Legally, it's left up to the companies that own them.
Lt. Gov. Herbert is reluctant to add to the state's budget demands, but acknowledges canal inspection is an issue that ought to be reviewed.
"Maybe this is a wakeup call to take a look at and at least review where we are under our local governments and what the state's role is to play to see if we can prevent these tragedies from happening in the future," he said.
The canal has been here since pioneer days. Although it's been upgraded over the years, it has been a problem area. The steep hillside has had slide problems many times over the decades.
The fire chief says he's confident the investigation will reveal exactly what caused that canal to collapse.
Story compiled with contributions from Nicole Gonzales and John Hollenhorst.
×
Related stories
Most recent Utah stories