Estimated read time: 2-3 minutes
This archived news story is available only for your personal, non-commercial use. Information in the story may be outdated or superseded by additional information. Reading or replaying the story in its archived form does not constitute a republication of the story.
Shelley Osterloh Reporting Researchers have a word of warning for parents of babies--don't let them sleep too long in a car seat.
That may surprise parents who think that if their child is sleeping well after a ride in the car just moving the whole car seat into the house might give them a few more minutes of quiet.
A new study looked at nine infants who suffered "life threatening breathing problems" while strapped into a car seat where they were left asleep outside the car.
The babies had their heads bent forward while they slept and that restricted their airwaves.
Parents need to mindful of the angle of the car seat and not use them as crib.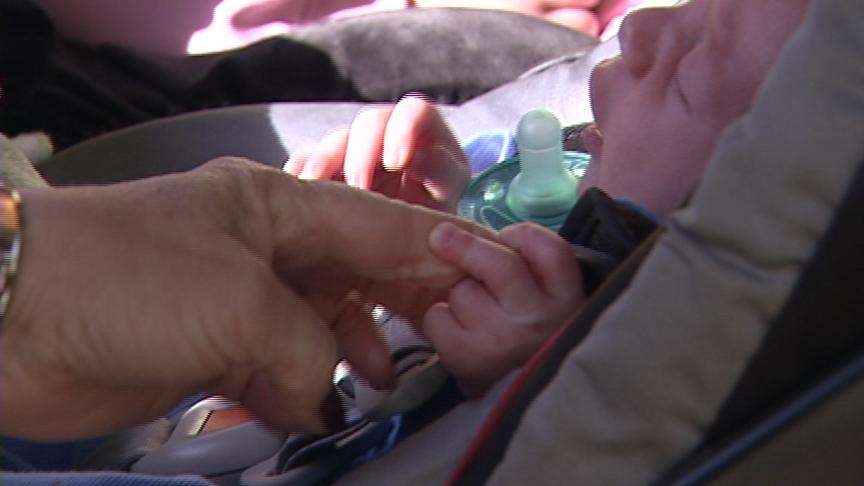 Lake many mothers, Angie Ostler says she often carries her sleeping 3-month-old baby inside in her car seat and doesn't wake her.
Angie Ostler, Parent: "I've done that quite a bit, where they fall asleep and you carry them in and you let them stay asleep."
But new research says an infant's head can fall forward as he sleeps and restrict air. The babies most at risk are under 6 months old.
Leslie Moore, Parent: "No, I've never heard of that. No, not at all. Kind of scary"
Experts say part of the problem is the angle of the car seat.
Janet Brooks, Child Advocacy Manager, Primary Children's Hospital: "Do you see the slant of this back is upright a little more? So we could potentially put her seat back a little bit."
Janet Brooks checks hundreds of car seats for families to be sure they are installed properly. She says the warning about letting babies sleep for long periods of time in car seats is not new, but a reminder.
Janet Brooks: "Leaving kids in a car seat too long, if you take them out of the car, take them into the house. They sleep in it, they nap in it. These are all issues, not only for airways but for curvature of the spine, flatness on the back of the head, these are all issues we look at."
But while it's not safe to let babies sleep for a long time in the car seat out of the car, she wants parents to remember in a crash, car seats save lives and reduce injuries by as much as 90%.
Even parents who realize the importance of using child seats in their cars may have difficulty installing them properly, though. So Primary Children's Hospital and the state have free car seat inspections all over the Utah. Call Primary Children's Hospital Hotline at 801-662-2277 for assistance.
×
Related links
Most recent Utah stories