Estimated read time: 1-2 minutes
This archived news story is available only for your personal, non-commercial use. Information in the story may be outdated or superseded by additional information. Reading or replaying the story in its archived form does not constitute a republication of the story.
SALT LAKE CITY -- The Utah Department of Transportation is installing new-signs in downtown Salt Lake City that could help drivers save time. Construction is still in the early stages, but the idea is to give drivers information and options as they drive home.
Compared to other UDOT summer construction projects, this newest one should be quick and easy and provide some relief to your commute.
Crews are just beginning to lay the foundation for "hybrid" signs in Salt Lake City, which will give drivers up-to-the-minute travel times that come from traffic sensors on the highway.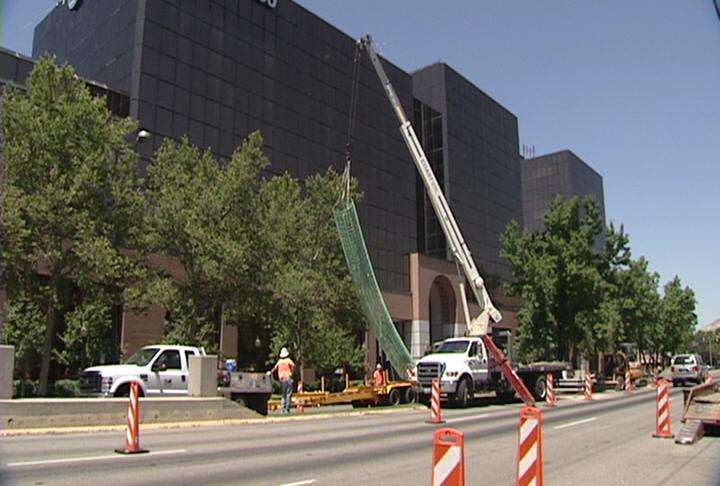 "If something happened on the freeway system where we might have to shut down the freeway, we might even put the word 'closed' or 'delayed,'" said UDOT project manager Tam Southwick.
UDOT already has three locations in the works:
500 South, westbound prior to 300 West
400 South, westbound prior to 300 West
300 West, northbound prior to North Temple
The 300 West location, in front of KSL studios, is critical for those traveling north.
"Travel time for legacy is 15 minutes, versus 20 minutes via I-15," Southwick said.
UDOT is also hoping to add two more downtown locations for a total of five, which would cost the state a little more than $800,000. Funding for the project had already been set aside, but now federal stimulus money will be spent in an effort to free up cash elsewhere.
"We want to really give the public information so that they can be able to make smart decisions and plan ahead," Southwick said.
At least three signs will be installed by August and fully operational by November. For more information on Utah road projects CLICK HERE.
E-mail: wjohnson@ksl.com
×
Related links
Most recent Utah stories