Estimated read time: 2-3 minutes
This archived news story is available only for your personal, non-commercial use. Information in the story may be outdated or superseded by additional information. Reading or replaying the story in its archived form does not constitute a republication of the story.
DRAPER -- Those who live in the Corner Canyon section of Draper have been through it all in the past year: fire, floods, mudslides. In fact, this week's mudslides still have residents cleaning up.
Now comes word that another thunderstorm is coming their way, and residents are doing the best they can to prevent more slides and flooding.
Like many yards and homes in the Corner Canyon area, Troy Olson's needed a lot of cleaning. The mudslide from a couple of days ago made a big mess out of his home.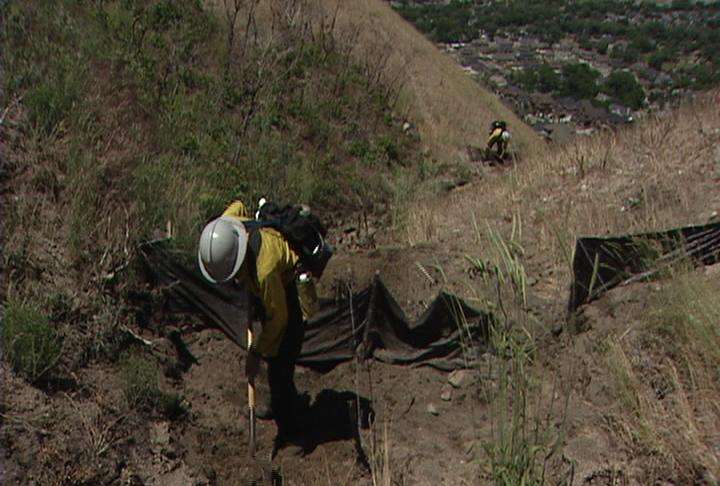 That slide came from the hills above where a wildfire last year loosened the soil, and heavy rain carried it down. Now, with word another big storm is heading straight toward Draper, residents are getting extra ready. "That's why there are big ditches and everything else," Olson said.
Residents built sandbag walls between their homes and the hills. On the hills, Forest Service workers cleaned out water-catch basins, which were dug last year to try and collect water flowing downhill, or at least slow it down. But after this week's mudslide, the basins were full.
"Rocks, dirt, mud, limbs; pretty much anything on the hill that wasn't anchored down came down," said Kendal Wilson, with the U.S. Forest Service.
So, crews had to dig them again and re-attach silt fences in preparation for this coming weekend's storm. "It's a fabric fence, reinforced with metal, to be able to withstand the force of this earth," explained Steve Scheild, also with the U.S. Forest Service.
The fences were installed after last year's fire. Officials say those fences appear to have done their job in stopping debris from coming down the mountain. Paul Flood, a Uinta-Wasatch-Cache National Forest soil scientist, said, "The structures did exactly what they were supposed to do. They prevented sediments and rocks from moving into the residential areas."
Because of the big, heavy equipment digging those catch basins, the following trails have been closed:
Orson Smith Trailhead and Trail
Bonneville Shoreline Trail between Bear Canyon and Cherry Canyon
Aqueduct Road between Bear Canyon and Cherry Canyon
The Upper Corner Canyon Road will also be closed until further notice.
Also in preparation for the weekend storm, Draper City is offering sandbags to its residents. Sand and empty bags have been delivered to Orson Smith Trailhead Park at 12601 So. Highland Dr. Residents are invited to fill up and take as many bags as they feel they may need.
The Draper City Emergency Operations Center is on standby and will be ready to go at a moment's notice if more mudslides occur, and Unified Fire Authority will issue reverse 911 phone calls if it becomes necessary.
"We're hoping it'll be light. That's the key. Maybe Mother Nature will go easy on us," Olson said.
------
Story compiled with contributions from Alex Cabrero and Sandra Yi.
×
Related stories
Most recent Utah stories