This archived news story is available only for your personal, non-commercial use. Information in the story may be outdated or superseded by additional information. Reading or replaying the story in its archived form does not constitute a republication of the story.
SALT LAKE CITY -- Some of the 23 defendants involved in the theft of hundreds of ancient Indian artifacts appeared in federal court on Wednesday. It's become a controversial case since one of the defendants committed suicide, with local leaders complaining about heavy-handed treatment by the federal government.
Prosecutors respond to criticism
Federal prosecutors and investigators responded to accusations their handling of the case has been heavy-handed.
The U.S. Attorney and the Special Agent in Charge for the FBI held a press conference Wednesday afternoon to discuss the arrests they made a week ago in this case, which have stirred up strong emotions in San Juan County.
Earlier this week, San Juan County commissioners contacted state and federal elected officials, sharply criticizing the arrests, suggesting that the strong show of federal force was humiliating for the defendants and helped contribute to the death of Dr. James Redd, who authorities say took his own life the day after the raid.
Federal authorities say the case involved priceless Indian artifacts, not "trash and trinkets" as some suggested. They say the charges are not just for possessing an artifact, but trafficking artifacts.
They also say the FBI notified local police about the operation in advance and that defendants were give "every reasonable accommodation," including being allowed to groom themselves or take medication and were provided lunch.
They say some suspects had firearms in their homes. In some cases, they say, agents did pull their guns, but the goal for the entire operation was to make the arrests safely.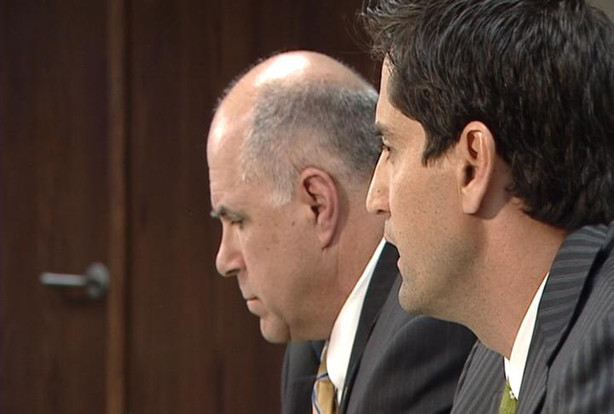 U.S. Attorney for Utah Brett Tolman said, "I believe they exercised appropriate discretion and judgment in carrying out these arrests."
He also said, "It is a difficult task to make felony arrests of nearly two dozen people simultaneously, and it requires some resources, and it requires a conscious decision-making ability to preserve safety."
FBI Special Agent in Charge Tim Fuhrman said, "Unpredictable circumstances can occur. You must be prepared for any of those circumstances."
He added, "I don't think there was any indication that there was anything excessive with respect to pulling weapons out."
Affidavits detail conversations between FBI source and suspects
Meanwhile, FBI search warrant affidavits obtained by KSL NewsRadio reveal new details about the case. The affidavits were unsealed by a federal judge late Tuesday. They detail conversations between a confidential FBI source wearing a wire and members of an underground network that federal prosecutors allege was pilfering the ancient artifacts and illegally selling them.
The affidavits detail the defendants revealing to the source where they got the artifacts and how much they were valued at. The FBI investigation lasted 2 1/2 years.
The affidavit involving Jeanne Redd alleged that she took the source on a tour of her collection of artifacts. He did business with her several times. Photographs taken by the source were attached, showing a vast collection behind glass in Redd's Blanding home.
The affidavits revealed more details about how the illegal network worked. "During the conversation, (Aubry) Patterson explained to the source how he sometimes sells the artifacts he collects," the affidavit said. "Patterson stated he doesn't like dealing or selling because he doesn't like doing the negotiation. He would rather have other people do it for him. He usually gives them a 10-percent commission if the artifact sells."
In the tape-recorded conversation, Patterson said he told "everybody that he finds artifacts on his private land." "Patterson also told the source he digs a little on other people's private ruins ... Patterson stated he doesn't dare dig in caves because he does not feel like he can get away from law enforcement, he would be trapped in the caves," the affidavit said. "Patterson told the source he knows a couple of caves where he could find good artifacts but the 'damn government these days.'"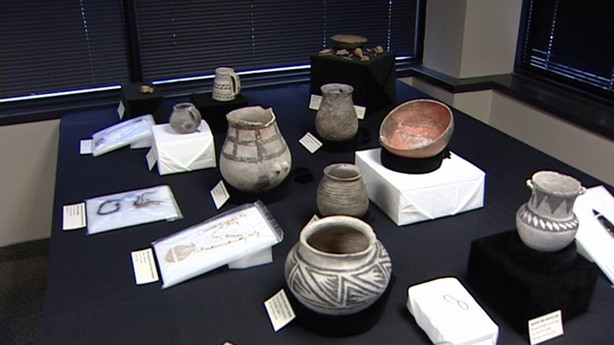 Others were worried about being caught, the FBI claims. In an affidavit for defendant Tad Kreth, he told the source his grandma was worried he'd go to jail.
"Kreth said he told her that he had dealt with the source for a while now and everything had been good, and she doesn't need to worry about him going to jail," the affidavit said.
Defendants make court appearance
A number of the defendants were in court Wednesday morning. It was a routine hearing to determine if all had legal counsel. Those without attorneys were assigned public defenders.
Todd Utzinger, attorney for Meredith Smith, said, "When we get the reports from the government, we'll just have to go through them one at a time, consult with our clients, see what their account is, and go from there. It's just like every other case, frankly."
None of those in court today commented when they left.
Compiled with information from Ben Winslow and John Daley.
×
Related Links
Related Stories