Estimated read time: 2-3 minutes
This archived news story is available only for your personal, non-commercial use. Information in the story may be outdated or superseded by additional information. Reading or replaying the story in its archived form does not constitute a republication of the story.
SALT LAKE CITY -- The Utah Minuteman Project called for Utah law enforcement to enforce new legislation that is intended to crack down on illegal immigration. The group held a rally downtown Monday afternoon urging Salt Lake City's mayor and police chief to enforce Senate Bill 81. The minutemen argue the city's refusal to enforce the bill protects lawbreakers, not citizens.
More than a dozen protesters stood on Washington Square for a couple of hours, chanting "SB 81" and waving signs.
Senate Bill 81 bill calls on law enforcement to verify the immigration status of those detained. And in some cases, that information would be handed over to the Department of Homeland Security.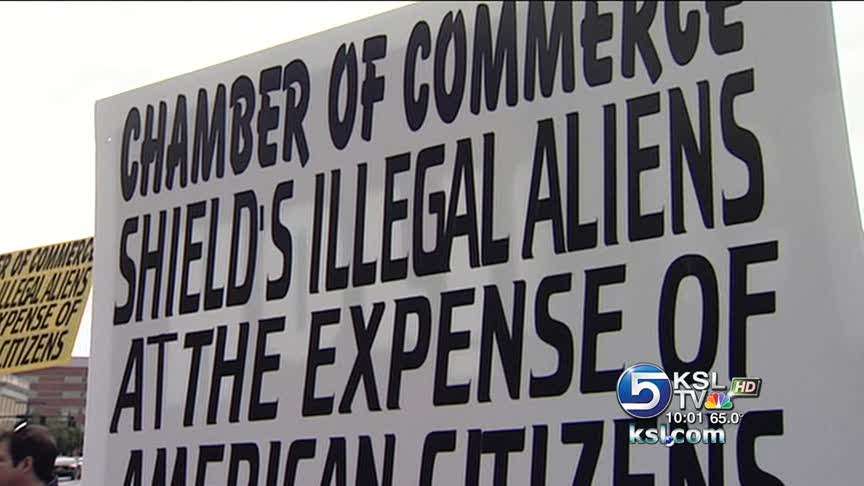 Salt Lake City's mayor and police chief have been adamant that they will not enforce it. Those at Monday's rally say that is wrong.
Minuteman founder Alex Segura said, "Look, we've got to take care of the citizens of the state of Utah, protect them, that is our primary focus. That's why we were voted into office to do. And we need equal justice, not selective law enforcement, and that's exactly what's happening today."
In a statement sent to KSL, Salt Lake City Police Chief Chris Burbank said he had not changed his mind for three reasons:
He is concerned implementation of the bill will scare people away from contact with the police. He feels that everyone is entitled equal access to law enforcement and should have peace of mind in doing so.
He says he wants to reassure the general public that they can approach the police as necessary without fear of reprisal, including being identified as illegal and possibly deported.
He says SB 81 implies a form of racial profiling that is in sharp contrast to the basic core values of the police department.
Segura says this cause isn't racist but rather it's about the rule of law. "What our law enforcement officials need to do is enforce the law the Legislature puts into effect. I don't think there should be any wiggle room for that," he said.
Another protester, Deborah White, admittedly sees the issue in black and white. "Let me inform you dear-heart. This idea of them only wanting to put the mayonnaise on your hamburger bun or them only wanting to pick your lettuce is a crock."
But those watching the protesters didn't necessarily agree.
Chandler Walker said, "They come over here not to steal jobs, not to be mean. Sometimes people just want to provide for their families. So how far will you go to provide for your family?"
Senate Bill 81 is scheduled to go into effect July 1.
E-mail: lprichard@ksl.com
×
Related links
Related stories
Most recent Utah stories