Estimated read time: 2-3 minutes
This archived news story is available only for your personal, non-commercial use. Information in the story may be outdated or superseded by additional information. Reading or replaying the story in its archived form does not constitute a republication of the story.
SUGAR HOUSE -- It's a blast from the past, but it's now the wave of the future. A streetcar line could run through Sugar House and South Salt Lake in the next few years.
"Streetcars have become really popular among cities, and we are seeing that as a mode of transportation that can serve a lot of our communities in cities across the country," said Salt Lake City Mayor Ralph Becker.
It's like TRAX but different, in that it is a slow-speed transit system and the car makes many more stops. Usually, streetcars run through neighborhoods, giving people easy access to stores and businesses.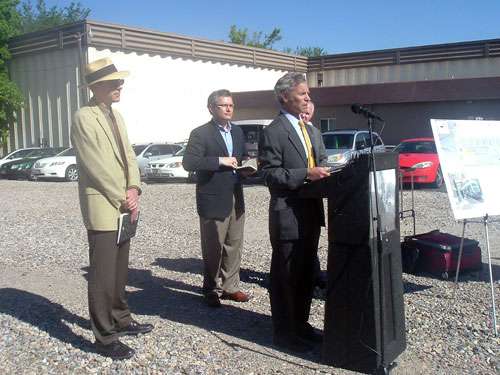 The Sugar House Street Car project is a two-mile rail line, running east and west, that would connect the Sugar House area with the TRAX stop in center of the valley. The new line would run along Sugarmont Drive, stopping every two blocks or so.
"This streetcar line will eliminate a lot of the congestion that's going on both in Sugar House and in the South Salt Lake area," explained South Salt Lake Mayor Bob Gray.
Such a system has been studied in Utah for a number of years. This project is a joint effort between Salt Lake and South Salt Lake, along with the Utah Transit Authority, which owns the corridor where the streetcars will run.
The corridor will be pedestrian and bike friendly as well -- Parley's Trail will be extended along the route -- and it could be a reality soon.
Becker says he's sponsoring a resolution two weeks from now at the U.S. Conference of Mayors meeting in Providence, R.I.
"It urges Congress and the federal government to move quickly to invest properly and devote the resources to streamline the decision making for streetcars in the United States," Becker explained.
He continued, "We are really progressing on a rapid pace, and we anticipate -- and this is a rough estimate-- but we really anticipate that if we keep moving along as we have, that within a year we'll be ready with decisions to move forward with the final design and construction of the streetcar line."
Once started, the project could take two years to finish. This community used to have a streetcar, so it's already built for one.
UTA expects the streetcar system could get at least 2,300 riders a day. They believe it will cost $40 million to $50 million to construct.
------
Story compiled with contributions from Mary Richards and Keith McCord.
×
Most recent Utah stories