Estimated read time: 1-2 minutes
This archived news story is available only for your personal, non-commercial use. Information in the story may be outdated or superseded by additional information. Reading or replaying the story in its archived form does not constitute a republication of the story.
SALT LAKE CITY -- The lack of seat belts was only one factor in a fatal crash on the Utah border. Too often we overlook our tires, and a terrible crash Monday underscored the importance of a few preventive measures to stay safe.
A family trip to Salt Lake ended with this rollover crash; six of the 11 passengers were ejected, one died. Speed wasn't a factor. Troopers say what caused the SUV to roll was a separated tire.
"The driver indicated that when the tire tread separated, she saw it in her mirror and she slammed on her brakes," said Arizona Highway Patrol Sgt. John Bottoms.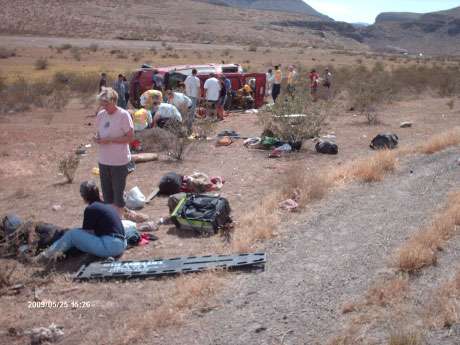 That sent the SUV skidding out of control.
Troopers and tire technicians say at the start of summer travel season is an important time to inspect your tires. "People need to know when they do a long road trip and it's hot outside, that the air pressure goes up in a hurry and makes the tire more likely to come apart," explained tire store manager Brent Wachter.
In addition to air pressure, check the wear on your tread and rotate the tires.
"The main purpose is, you know, you put the tires on all four positions on the vehicle, or at least move it from the front, which is normally the drive wheels, to the back, and it makes all four tires wear evenly," Watcher said.
Take the initiative, because often with tires by the time trouble is apparent the tires can be dangerous. One easy indicator: put a penny in the tread groove of your tire, if you can still see the top of Lincoln's head, it's too worn and you need a new tire.
E-mail: dwimmer@ksl.com
×
Related links
Related stories
Most recent Utah stories