Estimated read time: 2-3 minutes
This archived news story is available only for your personal, non-commercial use. Information in the story may be outdated or superseded by additional information. Reading or replaying the story in its archived form does not constitute a republication of the story.
SALT LAKE CITY -- If you find yourself standing next to someone who is smoking but don't smell anything, chances are they're not really smoking, but "vaping," as some say.
My colleague Manoli Dakis has been smoking for about 15 years. I was curious when I found out he was converting to a new thing called the electronic cigarette, or e-cigarette.
"I could fill this room up. I could smoke in here for an hour and you probably wouldn't even know I did it," Manoli said.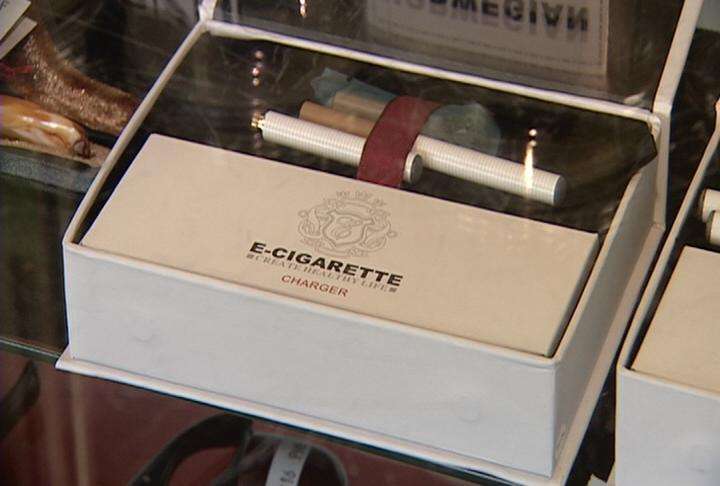 He's right! Though he puffed on a device with a lighted LED light on what normally would be the combustion end of a cigarette, I smelled nothing.
Manoli was exhaling mostly water vapor; some smokers prefer a hint of fragrance like mint or chocolate. It brings into question whether secondhand cigarette smoke is even an issue with this device.
Dissecting the e-cigarette, I found the LED light, a battery, an electronic chip, an airflow sensor, an ultrasound vaporizer and the inserted nicotine cartridge.
When smokers inhale, the atomization chamber is triggered, vaporizing the nicotine solution. Cartridges come with high, medium or low nicotine content.
"I have family members that don't smoke, and I can smoke around them and nobody is offended," said Paul Nafus, who works at Smokeys in Salt Lake. She says sales on e-cigarettes at her store have increased substantially, especially among smokers trying to quit.
Sam Milovich, co-owner of Smokeys, told us, "The federal tax increase went up, and cigarettes when up anywhere from $7.10 to about $8.20 a carton. People are looking for an alternative."
Once smokers invest $80 for the electronic device, they save $18 to $40 from there, buying each nicotine cartridge over a conventional carton of cigarettes. Some save even more.
"I'm actually saving even more money because I'm refilling my own cartridges with a dropper," Manoli said.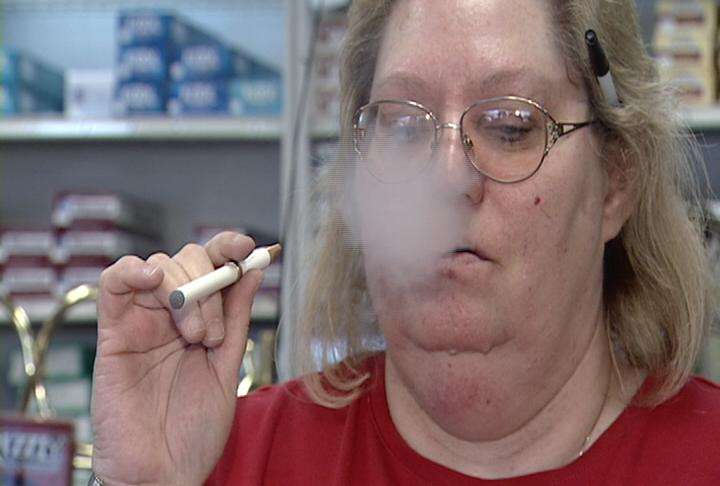 There is a problem with the e-cigarettes, though. "Federal agencies, governing agencies, don't know really how to respond to this," said Dr. Glen Hanson, with University of Utah Pharmacology and Toxicology Research.
That means there are no regulations on the product. But Hanson admits, looking at the running list of inert ingredients -- which are void of tars and carcinogens -- outside of nicotine, e-cigarettes are pretty harmless in the exhaled vapor.
Still, health watchdogs worry about the young person taking up smoking for the first time, believing the e-cigarette won't hurt them.
"Are we just substituting nicotine addiction for nicotine addiction?" Hanson asked. "You can't really tell if it is less dangerous until you have used the product for years."
Dave Neville, with the Utah Department of Health, said, "Nicotine is addictive no matter where you get it. The best solution is to quit, not substitute for something else."
In the end, there's simply not enough known about secondhand smoke from e-cigarettes. While the concept is intriguing, Hanson believes researchers need to take a detailed look at the device and study it before anyone makes any claims.
E-mail: eyeates@ksl.com
×
Most recent Utah stories