Estimated read time: 2-3 minutes
This archived news story is available only for your personal, non-commercial use. Information in the story may be outdated or superseded by additional information. Reading or replaying the story in its archived form does not constitute a republication of the story.
SALT LAKE CITY (AP/KSL News) -- The neighbor accused of suffocating 5-year-old Destiny Norton and then sexually assaulting her body waived his right Friday to a preliminary hearing on the evidence against him.
Craig Roger Gregerson, 20, will return Nov. 27 for an arraignment on a capital murder charge and child kidnapping in the July 16 abduction of the girl from her backyard. Prosecutors said they haven't made a decision on seeking the death penalty.
"Yes, your honor," Gregerson replied when asked by 3rd District Judge Judith Atherton if he was giving up his right to let the court decide whether the state had enough evidence for a trial.
Gregerson was flanked by four public defenders at a podium for the five-minute hearing. The lawyers blocked the view of a media pool photographer, who said he couldn't get a picture of the diminutive Gregerson.
One of the defense lawyers, Michael Peterson, told the judge they had received "full and complete" evidence in advance from prosecutors and would waive the hearing.
"What they're saying is, 'We've got all the state's evidence and we know that they'd prevail (at the hearing), so why don't we move on?"' prosecutor Robert Stott said.
Gregerson lawyers refused to take questions from reporters.
Stott said he was "definitely" prepared to take the case to trial and hadn't offered a plea bargain. He said Destiny's mother, Rachael Norton, would testify but that her father, Rick, was in no shape to take the stand.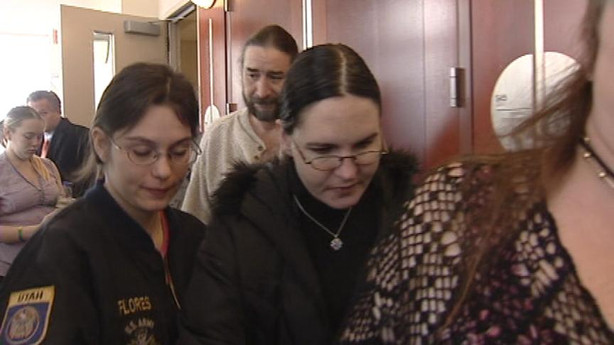 Destiny's mother Rachael showed up, but declined to talk to reporters. Rachael's mother was also there to get her first view of Gregerson. Family friends attended, along with a contingent of Bikers Against Child Abuse.
Police and an FBI agent have alleged Gregerson confessed to killing Destiny and hiding her body in his cellar for eight days as volunteer searchers fanned across the city looking for her. They believe she died within an hour of her abduction. Her body was recovered July 24 from a plastic storage container.
Gregerson remains in the Salt Lake County jail on $5.5 million bail, where officers have seized papers he wrote in his cell. Gregerson also was ordered to give up a blood sample to compare with evidence collected in the case.
(Copyright 2006 by The Associated Press. All Rights Reserved.)
×