Estimated read time: 3-4 minutes
This archived news story is available only for your personal, non-commercial use. Information in the story may be outdated or superseded by additional information. Reading or replaying the story in its archived form does not constitute a republication of the story.
WHITE CITY -- Police arrest a man with a disturbing fetish. This isn't the first time police have arrested the man known as "diaper boy." He's a registered sex offender with a history of lewdness arrests. Deputies say, this time, the man did more than just expose a diaper he was wearing to young kids.
Investigators got a call that a man was showing his diaper to children in the area of 10300 South and 800 East Thursday night. Police say that man was 31-year-old Barton Bagnes.
They say Bagnes pulled down his pants and showed kids his diaper. "You're talking about a grown man who walks up to young children, very young children, 3 to 4 (years old), and drops his pants and says, 'Look, I wear a diaper like you do,'" said Lt. Don Hutson of the Salt Lake County Sheriff's Office.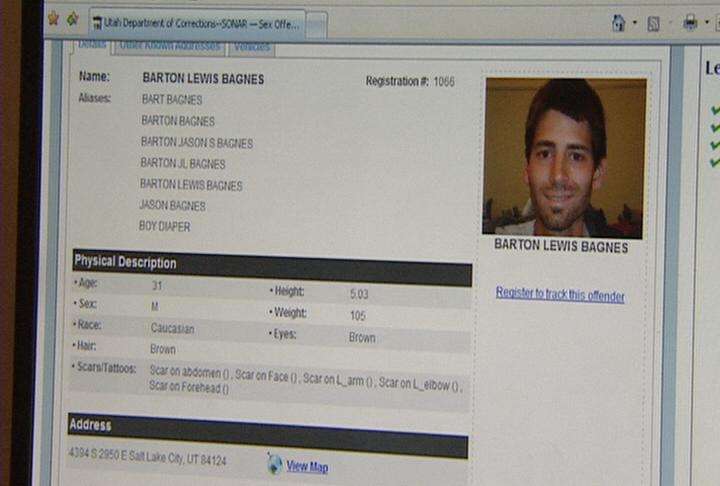 Investigators say he also handed out fliers with images of kids and adults wearing diapers. Investigators say it doesn't show nudity, so although disturbing and strange, it is not criminal.
That, in itself, upsets those who work with sexually abused children.
"The fact that something may be completely legal does not mean it's not harmful, and it may have devastating effects," said Bonnie Peters, executive director of the Family Support Center.
Peters says the photos are damaging to the kids who see them and the children who pose in them, even if they are legal.
"It's drawing attention to their genital area, and it's also putting them in an infantile role. This whole thing is emotionally abusive to these kids," Peters said.
Sheriff's deputies did arrest Bagnes for lewdness involving a child and disorderly conduct. "I've spoken to detectives who have interviewed him, and I asked them point blank, 'Does it seem like he is mentally understanding exactly what he's doing?' And they say, 'absolutely.' He is plenty capable of making appropriate, adult decisions," Hutson said.
Bagnes is known to deputies who have arrested him in the past for similar conduct. His last arrest was in March, when Bagnes pulled down his pants and showed off his diaper to three young children in Holladay. A search of court records does not show any charges filed in that case.
In 2000, he was convicted and had to register as a sex offender.
But in 2008, three similar charges against him were dismissed.
Deputies say this case walks a fine line because Bagnes does not expose himself.
Hutson said, "We have been instructed by the district attorney's office to bring each case to them just to see if there are any facts that may change, the circumstances or anything that's just a little bit different."
Investigators say there are no reports of Bagnes touching kids or exposing himself, but they say he is specifically targeting children, which is a concern.
A spokesperson for the Salt Lake County Prosecutor's Office says, she could not comment on the case until it has been screened with them.
------
Story compiled with contributions from Sandra Yi and Sarah Dallof.
×
Related stories
Most recent Utah stories