Estimated read time: 2-3 minutes
This archived news story is available only for your personal, non-commercial use. Information in the story may be outdated or superseded by additional information. Reading or replaying the story in its archived form does not constitute a republication of the story.
SALT LAKE CITY -- Hundreds of fourth-graders this week are learning respect for water conservation, but what about their parents?
Wednesday, groups of fourth-graders heard what adults keep hearing: to save water, a water-wise garden is better than grass.
At some point, government will really get serious about this friendly tip. Heavy water use will get expensive.
A spinning ball at the Hogle Zoo illustrates how much kids love water. To take advantage of that interest, the zoo is hosting a "Water Fair" this week to teach about the water cycle, waste water and water conservation.
They are messages the younger generation is picking up. Connor Clark said, "You can save water by turning off the water while you're brushing [your teeth].
"If you water (with) the hose, you waste water and you won't have any drinking water," said Tyler Petersen.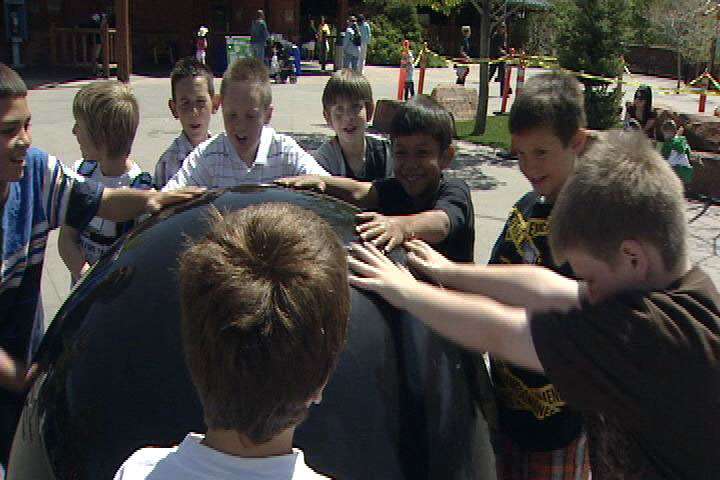 Those emerging attitudes are evolving at the same time Utah is facing serious questions about future water use. Utah is still a top summertime water user, in spite of its desert climate.
Cities and counties are nicely urging people to change and, so far, they say it's working. Sandy City Water Conservation Coordinator Kim Singleton said, "The mentality is changing, and the green movement is out there, and conservation is a big part of it, so I think we're doing a really good job."
But eventually, there might be many more teeth in the law. When pressed, officials admit things like stiffer fines and ordinances are not out of the question. Salt Lake County Mayor Peter Corroon said, "At some point, if people don't start conserving, we're going to have to see some changes in ordinances."
We're on the verge of the heavy season of water use season. Drought-wise, the reservoirs are in good shape, but that's just for this year.
E-mail: rpiatt@ksl.com
×
Related links
Most recent Utah stories