Estimated read time: 2-3 minutes
This archived news story is available only for your personal, non-commercial use. Information in the story may be outdated or superseded by additional information. Reading or replaying the story in its archived form does not constitute a republication of the story.
SALT LAKE CITY -- Questar says a communication problem was ultimately responsible for a major gas leak that forced the evacuation of thousands of people in Salt Lake three weeks ago. A Questar subcontractor failed to alert another company digging underground.
On March 24, Down Under Construction was installing an underground fiber-optic line and hit a natural gas line. At the time, crews said they were never told it was there.
"Blue Stakes cleared at 10:30 [a.m.] today, and the gas line was hit at 1:30 [p.m.]. We didn't know it was there," construction worker Wade Reese told KSL.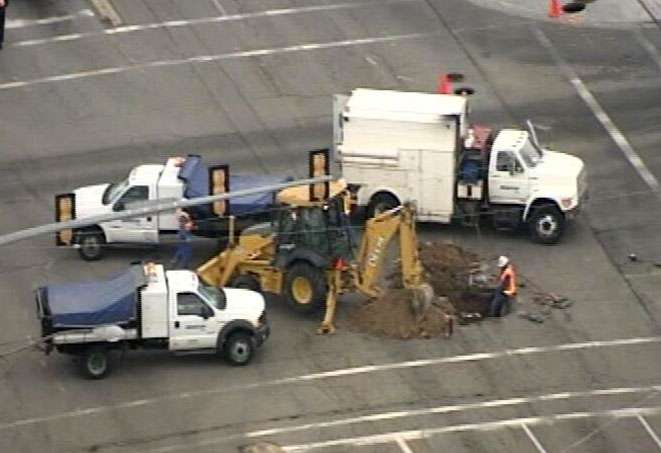 Turns out, he was absolutely right. Yellow paint put down by a contractor for Questar, marks where natural gas lines run underground. The day before the incident, Blue Stakes was called, Questar's contractor went to mark the spot, but it was too snowy and slushy to paint.
Trouble was, that contractor, ELM, never called to say the line didn't get marked.
"In that case, when he saw that he couldn't put the paint down and mark the line, then he should have contacted the contractor and said, 'Hey, don't start the project yet. We've got a gas line there and we can't get the lines down to mark it, so give us some time to get the lines down to get that taken care of,'" said Questar spokesman Darren Shephard.
Questar says ELM will pick up the costs for its repair bill, which will be in the thousands. Meantime, Questar says the incident is a good reminder to call Blue Stakes before digging; 1,600 times a year gas lines in Utah are broken when people don't call.
Also under "lessons learned," the University of Utah says it's working to develop more specific guidelines for evacuation messages, even though this one mostly went smoothly.
"We won't use 'campus is closed' again. The hospital certainly wasn't closed, the housing was still open, and we weren't evacuating those areas," said Les Chatelain, special assistant for emergency management at the University of Utah.
Neither Questar nor the university had a number as for how much all of this cost. The Salt Lake City Fire Department says it doesn't charge for responding to incidents, though if they were to "cost out" for dispatching crews that day, it would total nearly $6,700.
E-mail: jdaley@ksl.com
×
Related stories
Most recent Utah stories