Estimated read time: 2-3 minutes
This archived news story is available only for your personal, non-commercial use. Information in the story may be outdated or superseded by additional information. Reading or replaying the story in its archived form does not constitute a republication of the story.
SALT LAKE CITY -- Many of our communities have endured terrible floods in recent years, so whenever we get steady and heavy rains, it's important to take a close look at the potential for flooding beyond the isolated slides.
Red Butte Creek roars with plenty of rain and some run-off from low-elevation snow. Ashley Nielson, of the U.S. Geological Survey Water Science Center, keeps a close eye on this waterway throughout the year.
She went up Red Butte in the storm to measure stream flow. "We try to measure the peak at each of four sites," she said.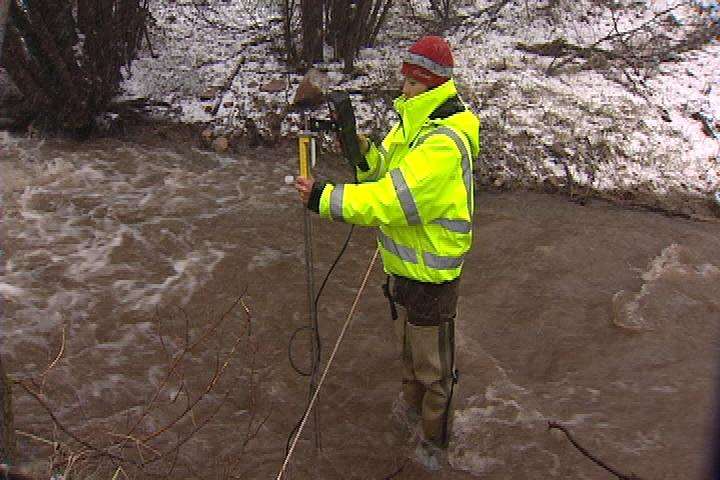 Red Butte Creek peaked at 21 cubic feet per second at midnight, well below its 5-year flood level of 32 cubic feet per second, and it could also be the peak for the season.
Nielson said, "This stream tends to peak earlier than other streams. With the rain and low-elevation snowmelt, the combination of those two probably brought us to a peak last night for the year."
Patrick Lambert is the director of the Utah Water Science Center. "The flows that we're seeing in the streams on the Wasatch Front are high, but they're not super, abnormally high," Lambert said.
But, the high-elevation snowpack is deeper than normal and will run off in the weeks ahead. Lambert said, "Even though flows have increased slightly as temperatures have warmed, we haven't seen the impacts of the run-off in these streams."
Up high, the precipitation fell as snow and that reduces the concern for immediate flooding. Larry Dunn, meteorologist in charge of National Weather Service, said, "This time of year, we're always worried about rain on snow flooding. We had heavy rain, we had pretty good run off in the urban areas, but we didn't have run off from up higher where the snowpack is."
The heaviest rain has already fallen, and Red Butte Creek is several feet down from its peak. As for the run-off in the weeks ahead, the National Weather Service Meteorologist says a big rainstorm might cause flooding, but it's unlikely to be widespread and stream channels should handle it.
E-mail: jboal@ksl.com
×
Related links
Most recent Utah stories