Estimated read time: 2-3 minutes
This archived news story is available only for your personal, non-commercial use. Information in the story may be outdated or superseded by additional information. Reading or replaying the story in its archived form does not constitute a republication of the story.
By Nadine WimmerSALT LAKE CITY -- With more than 280 road projects scheduled in Utah this year, authorities want drivers to think twice about work zone safety.
As part of National Work Zone Awareness week, the Utah Department of Transportation is teaming up with the Utah Highway Patrol to raise awareness about the dangers of driving in work zones.
They say federal stimulus dollars will create many transportation jobs in Utah. "It looks to be that the 2009 season will be the busiest highway construction season in our history," said John Njord, executive director of the Utah Department of Transportation.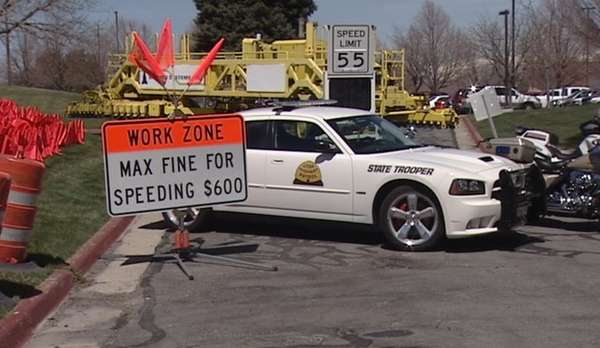 But paving the road to progress has other costs. "[We] see cars speeding through narrow work zones, and this puts more than their life at risk. It puts my life at risk, my co-worker's lives," said paving superintendent Brian Ady.
Transportation leaders and the Utah Highway Patrol are putting drivers on notice. They hope a display of 815 orange flags will strengthen our resolve to drive safer, because they symbolize the Utah drivers injured in 2007 in construction zones.
"When you see the color orange, we're asking people pay attention and please, by all means, slow down in work zones," Njord said.
If the color orange doesn't change your ways, the flashing blue lights in your rearview mirror may. Last month, UHP troopers wrote more than 520 tickets, with an average speed of 72 mph
"If you decide to speed in a construction zone, and you are stopped, you will receive a citation and double the fines," said UHP Capt. Alan Workman.
Troopers and transportation leaders advise familiar driving tips: don't drive drowsy, impaired or distracted. But what they'd really like to see is new willingness to consider everyone's safety during what will be a congested summer on Utah roads. [Click here for more safety tips for driving in a work zone]
Companies are also using better barriers, roads signs and other safety features to make construction zones safer.
E-mail: dwimmer@ksl.com
×