Estimated read time: 2-3 minutes
This archived news story is available only for your personal, non-commercial use. Information in the story may be outdated or superseded by additional information. Reading or replaying the story in its archived form does not constitute a republication of the story.
SALT LAKE CITY -- In this country, Utah's Homeland Security is again telling folks that the concept of "Duck, Cover, and Hold" is still the best immediate protection when the ground starts shaking. You drop under the nearest desk or table to cover your head and hold on to that table or desk.
Public schools practice these drills routinely, or they should. Once children hear the first signs of an earthquake, they duck, cover and hold on.
Why hold on? Since the desk or table will move with the earthquake, hold on and move with it until the shaking stops. Bob Carey, with Utah Emergency Services and Homeland Security, said, "Most of the injuries that you see in earthquakes come not from building failure but from the contents and the nonstructural aspects of buildings that fail during the earthquakes, so by far, 'duck, cover and hold' is going to give you protection against that."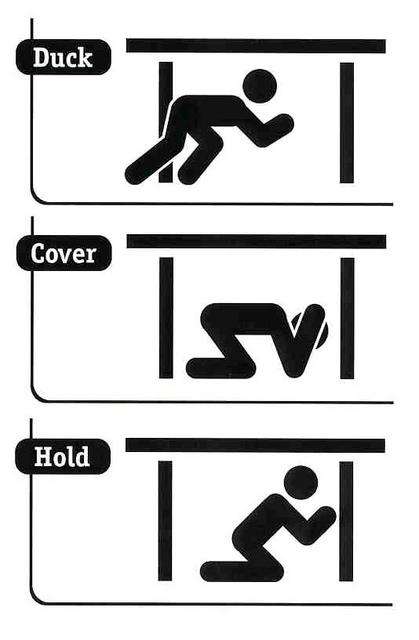 Barring collapse of a building, protecting yourself from falling interior furnishings, which come down all the time even in a moderate earthquakes, is the safest bet.
In this country, Carey says "Duck, Cover and Hold" has proven itself over the years. Now having said that, there are exceptions. If you are in a large open area and there are no desks, move to an interior wall, take the crouching position--hands over the head for protection-- and stay against the wall.
Carey said, "When buildings fail, the outside walls fail first and then the roof hinges off these interior walls. So when it collapses, you create between the floor and the wall this triangle, and when emergency people see that configuration of failure, they know that if anybody survived in that event, it's going to be along that particular wall."
Keeping interior furnishings intact is a big thing now in office spaces. Take the new home for the University of Utah seismograph stations. They have specially-designed office partitions that will stay in place, tall cabinets are bolted to walls and the doors on cabinets have button latches that will keep them closed.
E-mail: eyeates@ksl.com
×
Related links
Most recent Utah stories