Estimated read time: 4-5 minutes
This archived news story is available only for your personal, non-commercial use. Information in the story may be outdated or superseded by additional information. Reading or replaying the story in its archived form does not constitute a republication of the story.
SALT LAKE CITY - Members of The Church of Jesus Christ of Latter-day Saints sustained Elder Neil L. Andersen as a new apostle and heard messages of inspiration for these difficult economic times during the church's 179th Annual General Conference on Saturday.
"In the world today we face difficulties and challenges, some of which can seem truly daunting. However, with God on our side we cannot fail," Church President Thomas S. Monson said during Saturday night's Priesthood session of conference.
New leaders called
Related:
Saturday morning, Latter-day Saints sustained Elder Andersen, 57, and other new leaders, including general Sunday School and Young Men's presidencies and 13 members of the First and Second Quorums of Seventy. They include the church's first native African general authority, Elder Joseph W. Sitati. CLICK HERE for information on new leaders called.
Pres. Monson began the two-day conference by announcing Elder Andersen will fill the vacancy in the Quorum of the Twelve Apostles left when Elder Joseph B. Wirthlin passed away last December.
At a news conference Saturday afternoon, Elder Andersen said he learned about the calling on Wednesday afternoon. He called it a great honor and responsibility. CLICK HERE for more on Elder Andersen.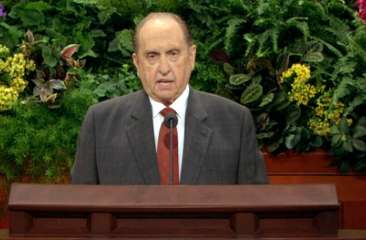 In Saturday morning's session, President Monson talked about several temple dedications in the last six months. He also spoke of growth. There are now more than 13.5 million members of the church worldwide.
"The work of the Lord continues to move forward uninterrupted. We now have approximately 53,000 missionaries serving in 348 missions throughout the world," he said.
Messages of hope
Pres. Monson said, "To those of you who are struggling with challenges, or with disappointments, or with losses, we pray for you. Our Heavenly Father loves each of us and is mindful of our needs."
Elder Robert D. Hales of the Quorum of the Twelve addressed needs and wants. He stressed the importance of becoming provident providers for ourselves and others.
"Some debt incurred for education, a modest home or a basic automobile may be necessary to provide for a family. Unfortunately, however, additional debt is incurred when we cannot control our wants and addictive impulses," he said.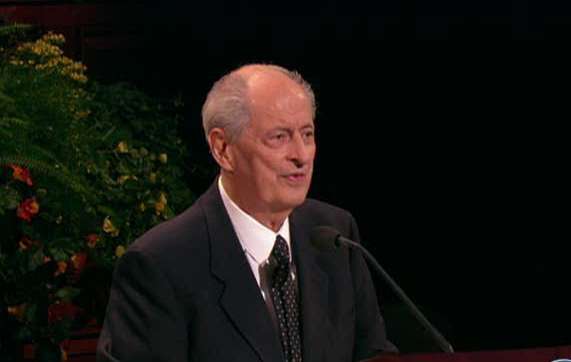 "Our challenges, including those we create by our own decisions, are part of our test in mortality," Elder Hales said. "We must practice the principles of provident living: Joyfully living within our means, being content with what we have, avoiding excessive debt and diligently saving and preparing for rainy day emergencies."
Elder Hales also said provident providers must follow the most basic commandment "Thou shalt not covet." He advised tithing, fast offerings, family council and family budgets.
Elder Allan F. Packer of the First Quorum of the Seventy spoke about finding strength in challenging times. He advised church members to develop "a deep spiritual conversion to the gospel of Jesus Christ and know how to receive inspiration."
Elder D. Todd Christofferson, also of the Quorum of the Twelve, followed on that theme, stressing how the power of covenants is crucial in these days and days ahead. "We need strong Christians who can persevere against hardship, who can sustain hope through tragedy, who can lift others by their example and their compassion," he said.
President Henry B. Eyring, first counselor in the First Presidency, talked about adversity. He said faith and courage will come from a testimony, and that this life prepares one for eternal life.
Another apostle, Elder M. Russell Ballard, said we live in a time of "remarkable progress," but "boundaries of good taste and public decency" are declining. "When people of faith attempt to warn others of the possible consequences of their sinful choices, they are scoffed at and ridiculed, and their most sacred rites and cherished values are publicly mocked," he said.
Sister Margaret S. Lifferth of the Primary general presidency called on parents to teach reverence and respect. She said respect for others and reverence for God are rooted in humility and love.
Some reports on the church have been untrue, unfair and harsh, said another member of the Quorum of the Twelve, Elder Quentin L. Cook. But, he said, Latter-day Saints should respect those of other faiths.
"Our attitude toward other Christian churches has been to refrain from criticism. They do much good. They bless mankind. Many help their members learn of the Savior and his teachings," he said.
And Saturday evening, Elder Boyd K. Packer of the Quorum of the Twelve told the young men not to decorate their bodies with tattoos or piercings. He also addressed gender.
"You were born a male. You must treasure and protect the masculine part of your nature. You must have respectful, protective regard for all women and girls," he said.
You can see or hear Sunday's conference sessions at 10 a.m. and 2 p.m. on KSL.com, KSL TV 5, and KSL Newsradio 102.7 FM/1160 AM.
This report was compiled with information from Carole Mikita and the Associated Press.
×
Related links
Related stories
Most recent Utah stories