Estimated read time: 2-3 minutes
This archived news story is available only for your personal, non-commercial use. Information in the story may be outdated or superseded by additional information. Reading or replaying the story in its archived form does not constitute a republication of the story.
SALT LAKE CITY -- Officially it is spring, but Monday morning's commute delivered another message. All along the Wasatch Front people awoke to find several inches of snow on their lawns and on the roads.
Traffic was the least of the worries for some. Power outages affected hundreds, and people in Little Cottonwood Canyon had to cope with an avalanche.
Accident leads to power outage
Six hundred homeowners were without power Monday morning after a SUV drove into power pole. The woman was traveling south on Foothill Drive around 8 a.m. when she lost control of the vehicle on the slushy road and slid right into the power pole. The lines on the pole snapped, landing on top of the SUV.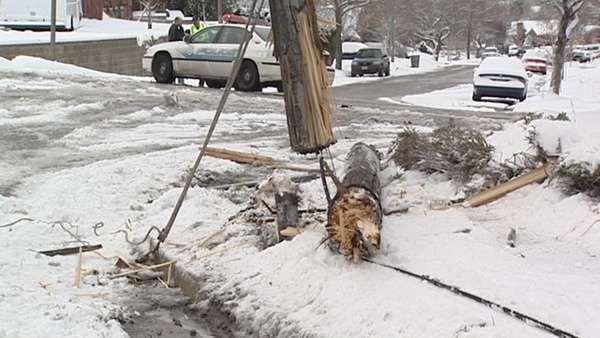 Detective Dennis McGowan, with the Salt Lake City Police Department, said, "You can see it's suspended by the wires right now, so it is certainly a dangerous issue."
Emergency rescue teams helped the woman out of her SUV after she had been trapped inside for nearly an hour.
Once Rocky Mountain Power crews were able to cut the power from the line, the woman was able to walk away.
Rocky Mountain Power crews anticipated it would take them until 8 p.m. to repair the damage. However, they were able to restore all power by mid-afternoon.
Avalanche
At the base of Little Cottonwood Canyon Monday morning, Salt Lake County sheriff deputies blocked traffic to the canyon near Wasatch Boulevard after a small avalanche covered the road near the White Pines area, trapping two vehicles in its path.
Salt Lake County sheriff's Sgt. Travis Skinner said, "Slide is all the way across the road, it's about 20 feet wide and about 3 feet deep."
The passengers in both cars were able to get out and were taken down the mountain. Their cars, however, stayed put for a few hours while UDOT cleared the road.
Mark Castelli came to Utah from Florida to ski. He was on his way up the canyon when he was turned around. "That's why I came, I was really just looking on the Internet and saw the snow forecast. I mean, I just bought my tickets on Thursday," he said.
More weather-related problems
Parley's Canyon had a few trouble spots as well. A jack-knifed semi slowed traffic down near exit 131 after it slid into the barrier.
Truck driver Edmond Tores said, "One car too little hit the brake in the front of me. I tried to move to the side, and then I lose control."
According to UHP trooper Cameron Rodern, in Salt Lake County between midnight and 11:00 a.m. there were 64 property damage crashes and 11 personal injury crashes related to the weather.
In Utah County there were 13 property damage crashes and five personal injury crashes.
E-mail: spark@ksl.com
×
Related links
Related stories
Most recent Utah stories