Estimated read time: 2-3 minutes
This archived news story is available only for your personal, non-commercial use. Information in the story may be outdated or superseded by additional information. Reading or replaying the story in its archived form does not constitute a republication of the story.
SALT LAKE CITY -- The Crandall Canyon mine disaster stirred motivation to come up with better ways to save miners trapped by cave-ins. Since that time, scientists at the University of Utah have devised a new method to locate trapped miners.
Vibration may someday save the lives of trapped miners. "[It's] a simple and effective way to find or locate the trapped miners within a few hours," said Sherif Hanafy, adjunct associate professor of geology and geophysics at the University of Utah.
Hanafy is one of the authors of the study. "If we can find the location of seismic sources generated inside the mine, using only receivers on the surface, then this can be used to help find trapped miners," he explained.
Sending the SOS is as simple as this: The trapped miner takes a sledge hammer, hits an iron pad on the wall of the mine, and that sends a seismic signal up to the surface. Once the seismic source is pinpointed, rescue teams know where to go.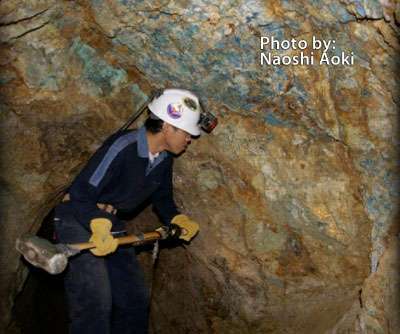 The test results are published this month in the geophysicist journal The Leading Edge. During mine excavation, iron plates are installed in the tunnel; on the surface, seismic receivers. When a miner hits the plate, the signal travels through the rock to the receivers.
"The pattern that we receive will be different from point to point," Hanafy said.
Each station has a unique seismic fingerprint; the peaks and troughs of the waves are unique. Recorded data can be pulled up on a laptop -- the senior researcher on the project, Gerard Schuster, borrowed the concept from the oil and gas industry.
The scientists first tested the method in a utility tunnel on campus, then at an abandoned mine in Arizona used for experiments. The team had 100 percent accuracy.
At Crandall Canyon in August 2007, there was no signal to indicate any of the six miners survived the initial collapse. This method probably would not have made a difference there, but it might work for a miner who survives a collapse.
"We need to do it in a real running mine to make sure that everything is fine," Hanafy said.
It costs about $100,000 to install 100 receivers. The team wants to find a mining company willing to test the system.
×
Related links
Related stories
Most recent Utah stories