Estimated read time: 45-46 minutes
This archived news story is available only for your personal, non-commercial use. Information in the story may be outdated or superseded by additional information. Reading or replaying the story in its archived form does not constitute a republication of the story.
The 2009 Mountain West Conference football schedule was released today and is comprised of 72 games, including 36 conference match-ups. The 2009 schedule plays out over 13 weeks and concludes Thanksgiving weekend. Fifty-two of the 55 MWC-controlled games are set for Saturdays (95 percent), with only one of the remaining three contests moved for television purposes.
The non-conference schedule features 14 games against teams that earned bowl berths in 2008, including Clemson, Florida Atlantic, Florida State, Hawai`i, Minnesota, Navy, Nevada (two games), Oklahoma, Oregon, Oregon State, Texas, Texas Tech and Tulsa. Six opponents finished ranked in last year's final Top 25 polls (USA Today/AP) - #3/4 Texas, #5/5 Oklahoma, #9/10 Oregon, #12/12 Texas Tech, #19/18 Oregon State and #23/21 Florida State.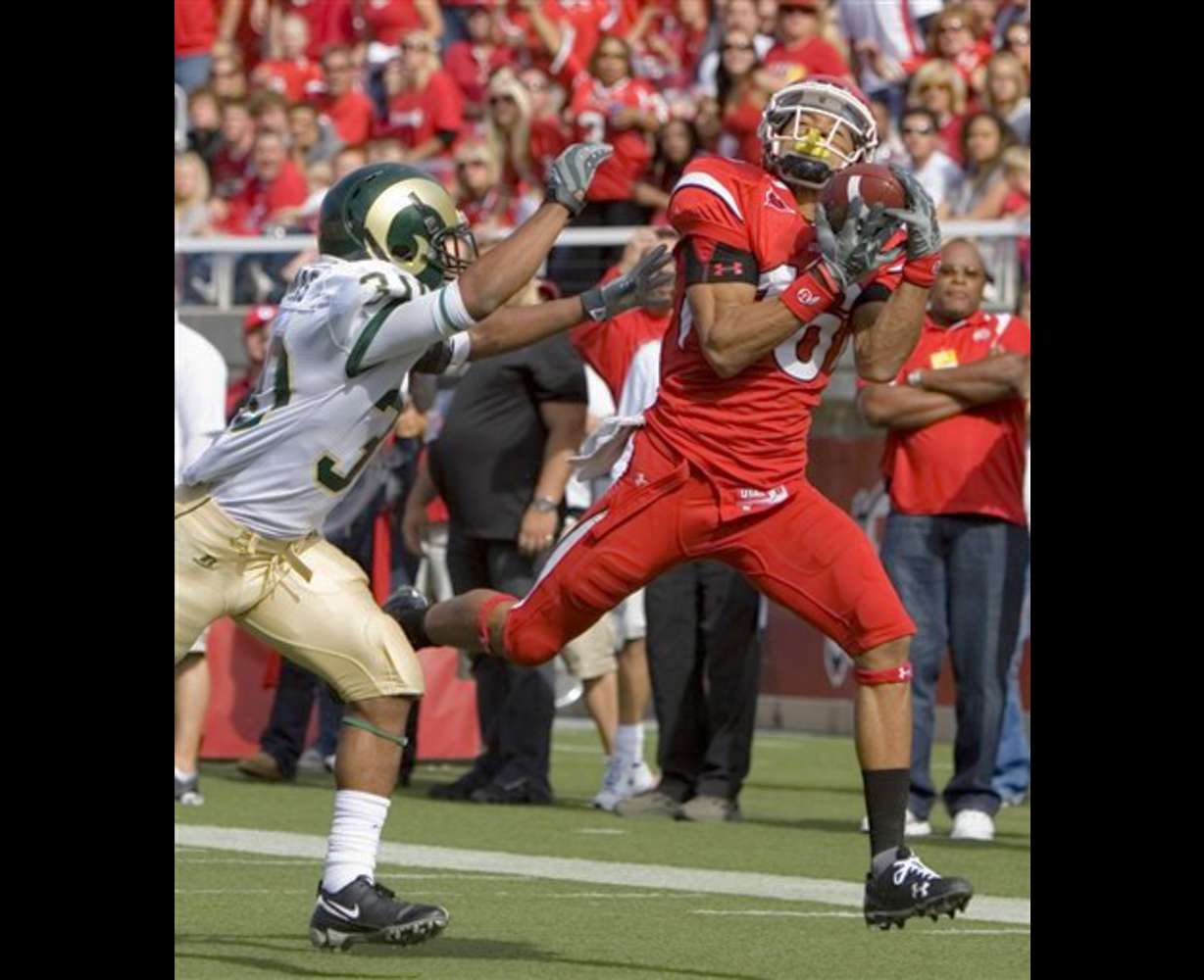 The MWC will play 14 games against BCS automatic-qualifying conference opponents including six against the Big 12, three match-ups with both the ACC and Pac-10, and one each against the Big East and Big Ten. The remainder of the non-conference schedule features 10 games against the WAC, three match-ups with C-USA and one contest with the Sun Belt. There are two games scheduled against Football Bowl Subdivision independents Army and Navy, and six home dates with Football Championship Subdivision programs.
The 2009 schedule currently features a minimum of 49 telecasts that will be available on a national basis. CBS College Sports Network will air nine games and VERSUS is scheduled for eight telecasts. The entire slate of CBS College Sports Network and VERSUS games will be produced in high-definition (HD). The Mtn. will televise 30 games, again featuring a unique telecast schedule that includes triple-headers on select weekends to maximize institutional exposure and provide fans all the MWC football action.
The MWC anticipates additional television and kick time information for non-conference road games once those conferences finalize their schedules later this summer.
The Mountain West Conference kicks off the season and the TV slate Thursday, September 3, with defending league champion Utah hosting Utah State at 7 p.m. MT live on The Mtn. Seven of the eight remaining teams open the season on Saturday, September 5, while TCU begins its 2009 campaign on Saturday, September 12 at Virginia.
Live game coverage on VERSUS and CBS College Sports Network begins Saturday, September 12. Wyoming hosts Texas at 1:30 p.m. MT on VERSUS and UNLV welcomes Oregon State to Sam Boyd Stadium at 8 p.m. PT on CBS College Sports Network.
VERSUS and CBS College Sports Network are widely available on cable systems across the country and via satellite on DIRECTV (VERSUS-Channel 603/CBS C-Channel 613) and Dish Network (VERSUS-Channel 151/CBS C-Channel 152). The Mtn. is carried nationally by DIRECTV (Channel 616) and numerous cable operators representing over 200 municipalities in nine states.
Below is the complete 2009 Mountain West Conference schedule, including kick times and television information.
**2009 MOUNTAIN WEST CONFERENCE FOOTBALL SCHEDULE *Dates and times subject to change.***
**[AFA](#AFA) • [BYU](#BYU) • [CSU](#CSU) • [UNM](#UNM) • [SDSU](#SDSU) • [TCU](#TCU) • [UNLV](#UNLV) • [Utah](#Utah) • [WYO](#WYO)**
### AIR FORCE FALCONS

Date
Game
Time
Zone
Television
Saturday, September 5
Nicholls State at Air Force
12:00 PM
MT
No TV
Saturday, September 12
Air Force at Minnesota
TBD
CT
TBD
Saturday, September 19
Air Force at New Mexico
5:30 PM
MT
- HD
Saturday, September 26
San Diego State at Air Force
12:00 PM
MT
Saturday, October 3
Air Force at Navy
TBD
ET
- HD
Saturday, October 10
TCU at Air Force
5:30 PM
MT
- HD
Saturday, October 17
Wyoming at Air Force
12:00 PM
MT
Saturday, October 24
Air Force at Utah
2:00 PM
MT
HD
Saturday, October 31
Air Force at Colorado State
2:00 PM
MT
Saturday, November 7
Army at Air Force
1:30 PM
MT
- HD
Saturday, November 14
UNLV at Air Force
4:00 PM
MT
Saturday, November 21
Air Force at BYU
1:30 PM
MT
- HD
### BYU COUGARS

Date
Game
Time
Zone
Television
Saturday, September 5
BYU vs. Oklahoma &
TBD
CT
TBD
Saturday, September 12
BYU at Tulane
2:30 PM
CT
Saturday, September 19
Florida State at BYU
5:00 PM
MT
HD
Saturday, September 26
Colorado State at BYU
4:00 PM
MT
Friday, October 2
Utah State at BYU
7:00 PM
MT
Saturday, October 10
BYU at UNLV
7:00 PM
PT
Saturday, October 17
BYU at San Diego State
3:00 PM
PT
Saturday, October 24
TCU at BYU
5:30 PM
MT
HD
Saturday, November 7
BYU at Wyoming
12:00 PM
MT
Saturday, November 14
BYU at New Mexico
12:00 PM
MT
Saturday, November 21
Air Force at BYU
1:30 PM
MT
- HD
Saturday, November 28
Utah at BYU
3:00 PM
MT


& Dallas Cowboys Stadium (Dallas, TX) [Big 12 Home Game]
### COLORADO STATE RAMS

Date
Game
Time
Zone
Television
Saturday, September 5
Colorado State at Colorado
TBD
MT
TBD
Saturday, September 12
Weber State at Colorado State
3:00 PM
MT
No TV
Saturday, September 19
Nevada at Colorado State
3:00 PM
MT
No TV
Saturday, September 26
Colorado State at BYU
4:00 PM
MT
Saturday, October 3
Colorado State at Idaho
TBD
MT
TBD
Saturday, October 10
Utah at Colorado State
4:00 PM
MT
Saturday, October 17
Colorado State at TCU
3:00 PM
CT
HD
Saturday, October 24
San Diego State at Colorado State
2:00 PM
MT
Saturday, October 31
Air Force at Colorado State
2:00 PM
MT
Saturday, November 7
Colorado State at UNLV
7:00 PM
PT
Saturday, November 21
Colorado State at New Mexico
4:00 PM
MT
Friday, November 27
Wyoming at Colorado State
12:00 PM
MT
### NEW MEXICO LOBOS

Date
Game
Time
Zone
Television
Saturday, September 5
New Mexico at Texas A&M
TBD
CT
TBD
Saturday, September 12
Tulsa at New Mexico
6:00 PM
MT
Saturday, September 19
Air Force at New Mexico
5:30 PM
MT
- HD
Saturday, September 26
New Mexico State at New Mexico
8:00 PM
MT
Saturday, October 3
New Mexico at Texas Tech
TBD
CT
TBD
Saturday, October 10
New Mexico at Wyoming
12:00 PM
MT
Saturday, October 24
UNLV at New Mexico
6:00 PM
MT
Saturday, October 31
New Mexico at San Diego State
4:30 PM
PT
- HD
Saturday, November 7
New Mexico at Utah
4:00 PM
MT
Saturday, November 14
BYU at New Mexico
12:00 PM
MT
Saturday, November 21
Colorado State at New Mexico
4:00 PM
MT
Saturday, November 28
New Mexico at TCU
12:00 PM
CT
### SAN DIEGO STATE AZTECS

Date
Game
Time
Zone
Television
Saturday, September 5
San Diego State at UCLA
TBD
PT
TBD
Saturday, September 12
Southern Utah at San Diego State
6:30 PM
PT
No TV
Saturday, September 19
San Diego State at Idaho
TBD
MT
TBD
Saturday, September 26
San Diego State at Air Force
12:00 PM
MT
Saturday, October 3
New Mexico State at San Diego State
5:00 PM
PT
No TV
Saturday, October 17
BYU at San Diego State
3:00 PM
PT
Saturday, October 24
San Diego State at Colorado State
2:00 PM
MT
Saturday, October 31
New Mexico at San Diego State
4:30 PM
PT
- HD
Saturday, November 7
TCU at San Diego State
1:00 PM
PT
HD
Saturday, November 14
Wyoming at San Diego State
7:00 PM
PT
Saturday, November 21
San Diego State at Utah
2:00 PM
MT
HD
Saturday, November 28
San Diego State at UNLV
6:00 PM
PT
### TCU HORNED FROGS

Date
Game
Time
Zone
Television
Saturday, September 12
TCU at Virginia
TBD
ET
TBD
Saturday, September 19
Texas State at TCU
6:00 PM
CT
No TV
Saturday, September 26
TCU at Clemson
TBD
ET
TBD
Saturday, October 3
SMU at TCU
7:00 PM
CT
Saturday, October 10
TCU at Air Force
5:30 PM
MT
- HD
Saturday, October 17
Colorado State at TCU
3:00 PM
CT
HD
Saturday, October 24
TCU at BYU
5:30 PM
MT
HD
Saturday, October 31
UNLV at TCU
3:00 PM
CT
HD
Saturday, November 7
TCU at San Diego State
1:00 PM
PT
HD
Saturday, November 14
Utah at TCU
6:30 PM
CT
- HD
Saturday, November 21
TCU at Wyoming
12:00 PM
MT
Saturday, November 28
New Mexico at TCU
12:00 PM
CT
### UNLV REBELS

Date
Game
Time
Zone
Television
Saturday, September 5
Sacramento State at UNLV
7:00 PM
PT
No TV
Saturday, September 12
Oregon State at UNLV
8:00 PM
PT
- HD
Saturday, September 19
Hawai'i at UNLV
6:00 PM
PT
Saturday, September 26
UNLV at Wyoming
1:00 PM
MT
No TV
Saturday, October 3
UNLV at Nevada
TBD
PT
TBD
Saturday, October 10
BYU at UNLV
7:00 PM
PT
Saturday, October 17
Utah at UNLV
7:00 PM
PT
Saturday, October 24
UNLV at New Mexico
6:00 PM
MT
Saturday, October 31
UNLV at TCU
3:00 PM
CT
HD
Saturday, November 7
Colorado State at UNLV
7:00 PM
PT
Saturday, November 14
UNLV at Air Force
4:00 PM
MT
Saturday, November 28
San Diego State at UNLV
6:00 PM
PT
### UTAH UTES

Date
Game
Time
Zone
Television
Thursday, September 3
Utah State at Utah
7:00 PM
MT
Saturday, September 12
Utah at San Jose State
TBD
PT
TBD
Saturday, September 19
Utah at Oregon
TBD
PT
TBD
Saturday, September 26
Louisville at Utah
5:30 PM
MT
- HD
Saturday, October 10
Utah at Colorado State
4:00 PM
MT
Saturday, October 17
Utah at UNLV
7:00 PM
PT
Saturday, October 24
Air Force at Utah
2:00 PM
MT
HD
Saturday, October 31
Wyoming at Utah
6:00 PM
MT
Saturday, November 7
New Mexico at Utah
4:00 PM
MT
Saturday, November 14
Utah at TCU
6:30 PM
CT
- HD
Saturday, November 21
San Diego State at Utah
2:00 PM
MT
HD
Saturday, November 28
Utah at BYU
3:00 PM
MT


### WYOMING COWBOYS

Date
Game
Time
Zone
Television
Saturday, September 5
Weber State at Wyoming
1:00 PM
MT
No TV
Saturday, September 12
Texas at Wyoming
1:30 PM
MT
HD
Saturday, September 19
Wyoming at Colorado
TBD
MT
TBD
Saturday, September 26
UNLV at Wyoming
1:00 PM
MT
No TV
Saturday, October 3
Wyoming at Florida Atlantic
TBD
ET
TBD
Saturday, October 10
New Mexico at Wyoming
12:00 PM
MT
Saturday, October 17
Wyoming at Air Force
12:00 PM
MT
Saturday, October 31
Wyoming at Utah
6:00 PM
MT
Saturday, November 7
BYU at Wyoming
12:00 PM
MT
Saturday, November 14
Wyoming at San Diego State
7:00 PM
PT
Saturday, November 21
TCU at Wyoming
12:00 PM
MT
Friday, November 27
Wyoming at Colorado State
12:00 PM
MT
×
Most recent Utah stories