Estimated read time: 2-3 minutes
This archived news story is available only for your personal, non-commercial use. Information in the story may be outdated or superseded by additional information. Reading or replaying the story in its archived form does not constitute a republication of the story.
SALT LAKE COUNTY -- The split of the Jordan School District has created a number of growing pains. Last week, the two new districts split up assets. Monday night, the new Canyons School District tackled concerns over the elementary Accelerated Learning Program, or ALPS.
A couple hundred parents and their kids showed up tonight to talk about proposed changes for ALPS. The Canyons District says the changes focus on student achievement and fiscal prudence.
As the split takes place this fall, some students will have to move schools to stay in the ALPS program. Others will be in split classrooms with first- and second-graders or fifth- and sixth-graders.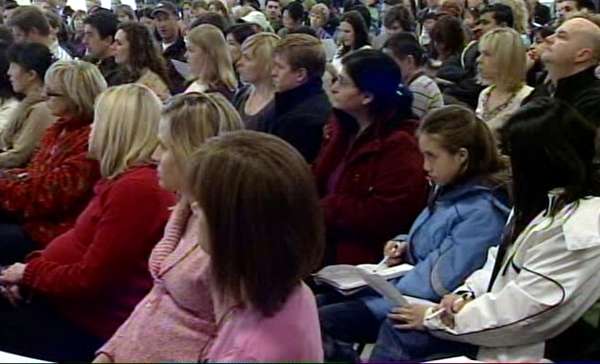 Some parents fear those changes will be bad for their children.
"It's a wonderful program. It's been great for my child. And they say they're going to change it and make it better, but the way I see it, they're limiting the numbers," said Amy Folum, parent of an ALPS student.
Lyda Bigelow, who is also an ALPS parent, said, "My children will be uprooted again, the third time in three years in the Utah public school system, because they didn't plan ahead properly. I don't think that's right."
Many parents are not affected by the changes; others are willing to drive to a new school and adapt.
As the district goes through this process, the superintendent says district officials want more of these programs, not less, and want to meet the needs of students.
"We're willing to listen to parents, and I think this meeting tonight is evidence of that. Even when we hear strong emotions back, we're gonna listen to people and we're gonna take people's feelings into serious consideration," said Dr. David Doty, superintendent of the Canyons School District.
The district wants to sustain the program in the short term and strengthen it for the long term. Some parents were unhappy that they only found out about these changes Friday and they did not feel included in the process.
We asked Doty about that, and he says that going forward that is a good lesson to have learned. He wants to include the parents in all of the processes and get their feedback on how this is going to work. He says the district will take Monday night's input input into consideration as they finalize the changes to ALPS.
E-mail: jboal@ksl.com
×
Most recent Utah stories