Estimated read time: 2-3 minutes
This archived news story is available only for your personal, non-commercial use. Information in the story may be outdated or superseded by additional information. Reading or replaying the story in its archived form does not constitute a republication of the story.
LOGAN -- No way would anyone who was attending Utah State University will forget the tragedy of September 2005. Now, future students, faculty and staff members will never forget that day either.
A memorial depicting the eight students and professor who died on that day was unveiled to hundreds of people during a ceremony Wednesday afternoon in the Taggart Student Center on campus.
The memorial is 7 feet high, 20 feet across and weighs more than a ton.
On the memorial, nine individual bronze panels highlight what each person who died loved the most. Since Utah State University is an agricultural school, all of the bronze panels have farm-type art etched into them: One panel shows dairy cows; another has tools.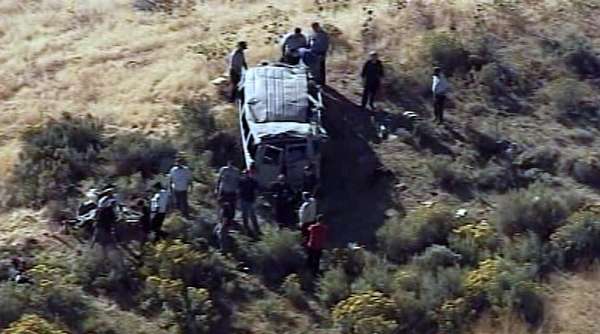 The van carrying the nine people who died was coming back from a field trip to see new farm equipment when it rolled over just south of Snowville on Interstate 84. Utah Highway Patrol investigators said speed was the main factor in the crash.
Those who died, and who are featured in the memorial, are Steven D. Bair, 22, Moses Lake, Wash.; Dusty Dean Fuhriman, 22, Tremonton, Utah; Justin W. Gunnell, 24, Wellsville, Utah; Justin Huggins, 22, Bear River City, Utah; Jonathan Dennis Jorgensen, 22, Peoa, Utah; Curt A. Madsen, 23, Payson, Utah; Ryan Wayne McEntire, 22, West Point, Utah; Bradley G. Wilcox, 26, Salt Lake City, Utah; and instructor Evan Parel Parker, 45, Hooper, Utah.
"We are pleased to recognize these students and their professor who were such vital parts of our college," said Noelle Cockett, the dean for the Utah State University agriculture department. "In the end, this monument will be an incredibly fitting part of our new agriculture building."
The new agricultural building is still in the planning stages but will be the permanent place for the memorial when it's completed.
Students Jared Paul Nelson, of Logan, and Robert Petersen, of Elwood, Utah, were the only survivors of the accident.
Monument Arts of Sandy designed and constructed the memorial. Artist Dan Cummings created the granite elements of the memorial, while sculptor Mark DeGraffenried, a 1993 Utah State University art graduate, sculpted the bronze panels.
"These panels not only represent the students and their teacher, they also represent the people whose lives were changed so drastically," DeGraffenried said. "I hope those affected by the loss will receive comfort and inspiration from this memorial."
Several family members of those who lost their lives were at the unveiling Wednesday afternoon.
E-mail: acabrero@ksl.com
×
Related stories
Most recent Utah stories